Archive for the 'Italy' Category
The team at Minoli are celebrating an outstanding run of success at The Annual Tile Association Awards after yet another year of accolades for the Oxford based distributor.
At this year's ceremony, Minoli again collected the award for Excellence in Marketing, which they last won in 2010. The judges took particular interest in Minoli's annual events strategy which has outperformed their other marketing initiatives in terms of return on investment and has seen ever increasing attendance levels from their expanding customer base.
For the launch of their 2013 collections, Minoli once again chose Home House on London's Portman Square as the setting for their event. The venue provides the perfect environment in which to showcase the company's new product portfolio and its central location has proved a real draw for customers and prospects across London and the South East.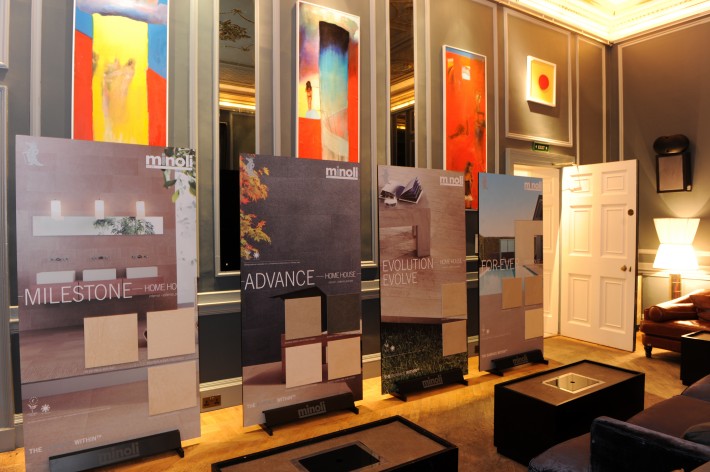 Over 250 guests joined the Minoli team at the exclusive location, enjoying a prosecco and canapés reception in the striking, minimalist interiors designed by the acclaimed Zaha Hadid and finished in sumptuous detail by Candy & Candy.
Home House Executive Chef, Jeremy Brown prepared an enticing menu of miniature classics to tempt the attendees and a selection of fine Italian wines from the Tenuta Santome Estate were sourced for the event by the specialist food and wine importers at Italian Continental.
The theme of the event – 'Interno – Esterno' - aptly captured the exciting design direction of Minoli's new ranges, focusing on the latest collections that can be used both inside and outside, together with a new 'super luxury' addition to the Evolution series. The ranges also feature in a brand new, comprehensive brochure and supporting display materials specifically developed for the launch.
The Tile Association Awards celebrate all that is best in the wall and floor tile industry. They recognise and reward the outstanding products, people, businesses and projects of the preceding year. The winners were announced at the annual TTA Gala Dinner on Saturday 20th April in Birmingham.
This also is the third consecutive year that Minoli have landed the Award for Excellence In Distribution, an unprecedented recognition of the company's continued commitment in this field.
Managing Director Jonathon Minoli said, "We're delighted to have once again been commended for our efforts by our industry peers in two very important categories for our business.
"With regard to the Marketing award, this is particularly satisfying as it endorses our focus on direct marketing and events to develop more meaningful and engaging dialogue and relationships with our clients."
Posted by Sophie Weitz in Home House Preview, Italy, Minoli, New ranges, 9th May, 2013