Minoli London Refurbishment Nears Completion
April 27th 20 Years.
Sunday April 27th will mark the 20th anniversary of the death of Peter Minoli, my Father and the founder of Minoli Tiles.
Although Minoli & Co Ltd was founded by Luigi Minoli, Peter's Father, it was Peter who had the forethought to enter the Ceramic tile business and to move slowly away from the company's traditional business of manufacturing Terrazzo.

 Peter Minoli and his Father Luigi Minoli at the opening of the new Minoli Terrazzo factory and mosaic showroom Oxford 1960
In late 1993 Peter became unwell , although it did not effect his dedication to the company and his family, he attended the Italian Cersaie Exhibition in the Autumn of 1993 and the Spanish Tile Exhibition in spring 1994. Unfortunately during April his health deteriorated and he passed away on the 27th .
Peter worked tirelessly to build Minoli Tiles into a strong and successful company and sadly did not  have the opportunity to see it grow as it did in the years after his death.
In the months after he passed, Kate,  Niki and myself worked to ensure that the company, and Peter's legacy continued.  As things began to settle, we looked to utilise the tools left by Peter to build the company in a sensible and sustainable way, a true example of natural organic growth.
Concentrating on Peter's core values of offering excellent products, and very reasonable and competitive prices, but most importantly supported by a service that was to be considered second to none.

Peter Minoli, Circa 1990, busy at Work, Minoli – Oxford. Phone in hand…. Coffee & Cigars close to hand
At the beginning of 1995, construction began on an new warehouse and Showroom building, which was completed in 1996 and officially opened in November of that year. The timing of this seemed to be very good as the general economy picked up and with only a few slight down turns. There then proceeded to be almost 15 years of solid and steady growth.
Now, 20 years on Minoli have a staff of 40 (many of whom worked with Peter), a turnover level that far exceeds Peter's hopes and still retain many of the clients who Peter knew and respected.
If I may take this opportunity to thank our friends in the industry, suppliers, partners, customers and clients who were so very supportive to Kate, Niki and myself during the Spring and Summer of 1994. Also a special mention to all of the members of the Minoli team who were with us then, some of which are still with us today, who dealt with the daily stress and issues and insulated us at what was a terrible time.

Peter Minoli with Jonathon Minoli, this pictured in the Factory Showroom of Keraben, Gres de Nules, Castellon Spain –  Circa 1989   
We are really not too sure what Peter would make of Minoli now, we have increased in size and scope of operations considerably, the general consensus of opinion is that he would be pleased and probably a little proud of what has been built on the foundations he laid, although he would probably question the margins we now work with….. one thing Peter did respect was a solid margin!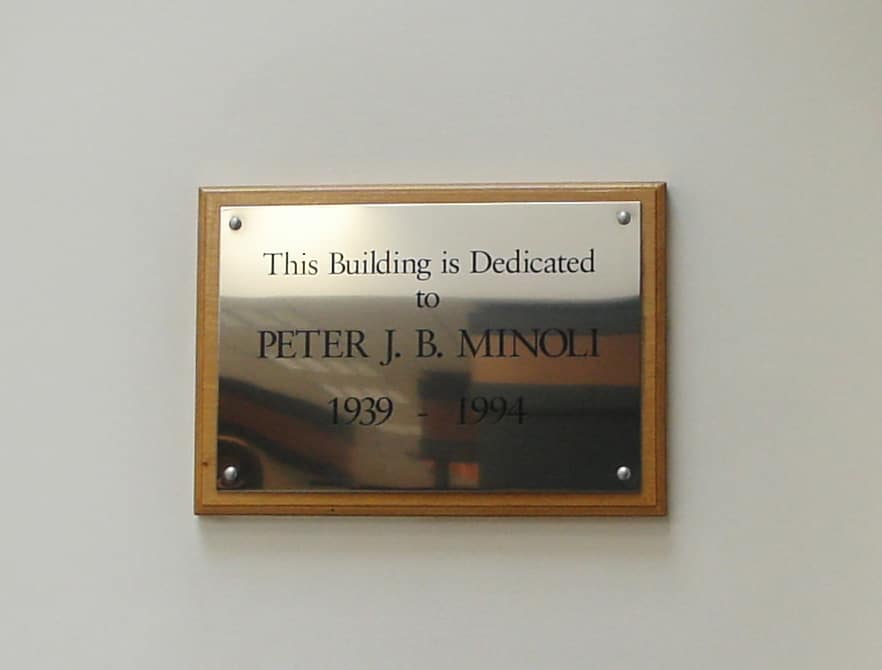 Posted by Jonathon Minoli
Posted by Sophie Weitz in Minoli, 23rd April, 2014