Three unmissable offers available on the Tundra Sand series, ready for collection or delivery, while stocks last.
---
As a neutral but realistic stone-effect tile in ceramic, the Tundra series was favoured by developers looking for a clean and modern finish to kitchens, bathrooms, utility and cloakrooms. The range has now been superseded in the new product replacement cycle but until recently it was a frequently specified range in our Core Essentials Collection.
The Sand colourway is a warm, multi-tone, sunny beige shade and in the matt finish it has a solid depth to its design. This batch, in the 20/50 format, is ideal for use on walls and creates a soft and subtle canvas against which to showcase other fixtures, fittings and furniture.
As a discontinued line and with up to 400 m2 available, we're now able to price this batch for clearance at just £14.40 per m2 (inclusive of VAT), which is a 40% reduction on the previous retail price.
---
Primarily for use as a floor tile, with the matt finish, Tundra Sand brings a sense of space and light to any environment. As well as the 20/50 version that we are promoting this week, we also have Tundra Sand in a beautifully proportioned 45/45 size.
With a tone-on-tone mix of beige and biscuit and an irregular patterning, Tundra Sand faithfully emulates the appearance of its natural stone counterpart, but in a quality ceramic material that's suited to today's interior design directions.
Right now, we have 60 m2 available for collection or delivery, so we recommend early enquiries to secure what's required for a forthcoming residential refurbishment. As a recently discontinued line, at £14.40 per m2 (inclusive of VAT), this product parcel represents excellent value for money.
---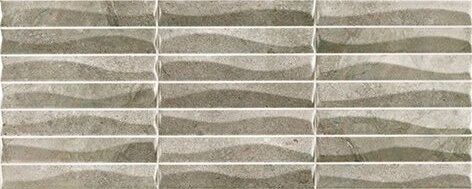 Tundra Rowland Sand Decor 20/50
With a letterbox grid format and an interesting undulating pattern, this tile is pre-cut to give the appearance of a rectangular mosaic, but with the solidity and uniformity of a 20/50 ceramic tile.
To finish your project using any of this week's Tundra Sand products, we have up to 60 m2 of the coordinating Tundra Rowland Sand Décor available in Minoli Outlet stock.
As per the other Tundra Sand products on offer, as a discontinued line this is also discounted by 40% for immediate clearance at £14.40 per m2 (inclusive of VAT). For use as a wall tile, Tundra Rowland Sand Decor is ideal for creating texture or a feature area within bathrooms, kitchens, utility or cloakrooms.