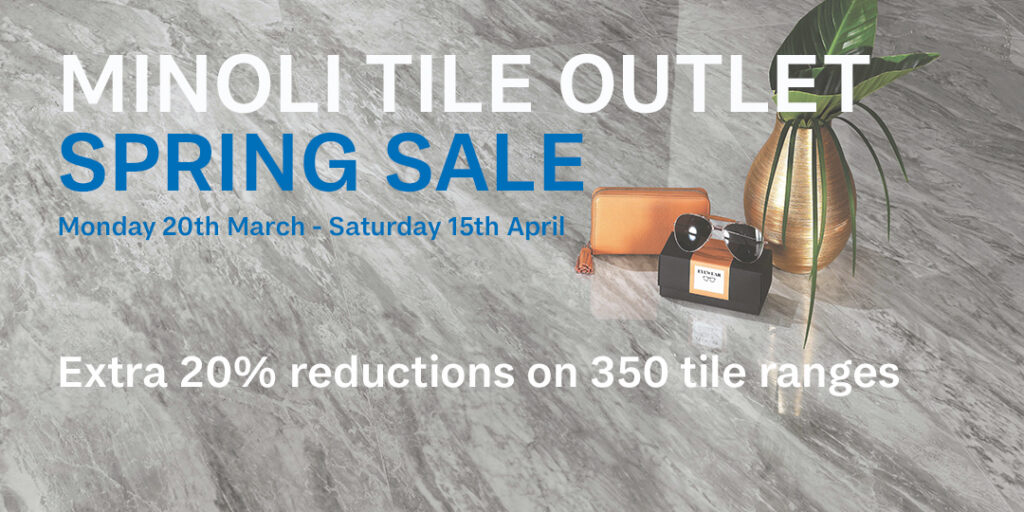 As the Minoli Outlet Spring Sale continues, until Saturday 15th April we're offering an extra 20% saving on previously discounted prices across all products in Minoli Outlet stock, with prices starting from just £3.84 per m2 (inclusive of VAT)*.
With 350 different designs now on the Minoli Outlet Website, with items marked down by as much as 84% against the original retail price, there's a vast array of designs available.
These include porcelain and ceramic tiles with marble, stone, terrazzo, wood, concrete and metal-effect finishes, with dozens of different colours, sizes and finishes, for use on wall or floors, inside and outdoors.
To calculate the Spring Sale Saving price of ranges you're interested in, simply take the 'Now' price shown in blue for any product on the Minoli Outlet Website and multiply by 0.8 or call our team for prices on 01865 778 225.
Each week we're featuring five of our favourites as examples, with that discount already applied here:
Now £23.03 per m2 with a 40% Outlet Discount and 20% Spring Sale Saving*
A modern, marble-effect tile, inspired by traditional Italian stoneware, with all the reliability and robustness of a rectified porcelain product and perfectly suited for both wall and floor applications.
We have up to 600 m2 available in this 30/60 profile and a matt finish, which brings a touch of luxury when installed in bathrooms, kitchens, utility, cloakrooms or larger living spaces.
---
Now £19.20 per m2 with a 65% Outlet Discount and 20% Spring Sale Saving*
With the perfect proportions of planed hardwood planks, this matt finished product recreates the look of a beautiful wooden floor, but with all the beneficial technical and aesthetic qualities of high-performance porcelain.
Doga Sand was originally specified by one of our premium automotive clients for the interior design of their flagship showrooms and we have up to 70 m2 available of this highly desirable and durable product.
---
Now £24.00 per m2 with a 50% Outlet Discount and 20% Spring Sale Saving*
With the contemporary look of concrete expressed in the surface finish and shading, this range brings a distinctly urban appeal to the most forward-thinking design directions.
With up to 160 m2 available in the 45/90 profile, Remarkable Pearl can flow seamlessly through kitchens and downstairs living areas or enhance the look of separate bathrooms and cloakrooms, on walls or floors.
---
Four Seasons One Spring 30/30 Sheets
Now £26.40 per sheet with a 50% Outlet Discount and 20% Spring Sale Saving*
Bring a glint of glitter and glamour to your next home renovation project with this mixed-texture, miniature mosaic, supplied on 30/30 sheets for ease of installation.
With just 12 m2 available in Outlet stock, we would recommend early enquiries to secure what you need to create feature walls or decorative details in kitchens, bathrooms, utility and cloakrooms.
---
Marmara Perla Bianco Gloss 25/60
Now £11.52 per m2 with a 40% Outlet Discount and 20% Spring Sale Saving*
In this high-gloss finish and 25/60 size, Marmara Perla Bianco is bright and light but with warm undertones. The delicate marble-effect patterning gives depth to the design in a subtle and sophisticated way.
Until recently, the Marmara series featured prominently in our Core Essentials Collection as a superb value ceramic wall tile and we have up to 300 m2 available, particularly suited for use in bathrooms, cloakrooms and utility rooms.
Browse online or come and see the products in person at the Minoli Outlet in Cowley, Oxford and all ranges can be made ready for collection or delivery (at minimal cost depending on location).
Residential or trade customers can purchase as much or as little as they need for their next home improvement or commercial projects, with all the excellent levels of quality and service you would expect from Minoli.
We hope you will be able to take advantage of these incredible savings. Contact details and directions to the Minoli Outlet can be found here.
*The prices shown above have already had the additional 20% Spring Sale Saving applied, over and above the current Outlet discounts. Products with 84% discount include Chamade Gris, Ambienti Brown, MC302 Mosaics and Foster Grey Pre-cut, which is now priced at £3.84 per m2.
Please note: As stated, prices exclude delivery which will be calculated based on quantity and location at minimal cost. Please also note that products purchased from the Minoli Outlet are non-refundable and non-returnable.