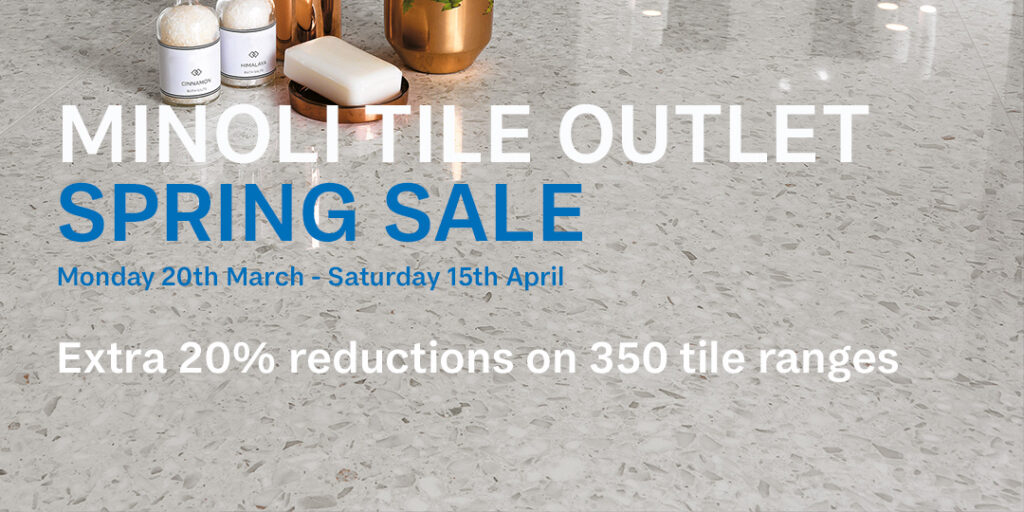 The Minoli Outlet Spring Sale continues into the fourth week with an extra 20% saving on previously discounted prices across all products in Outlet stock. The sale runs until Saturday 15th April, with prices starting from just £3.84 per m2 (inclusive of VAT)* on selected tiles.
Some 350 different products are now listed on the Minoli Outlet Website and there's a vast array of designs available, some of which are marked down by as much as 84% against the original retail price.
These include porcelain and ceramic tiles with marble, stone, wood, concrete and metal-effect finishes, plus mosaics and décor ranges, with dozens of different colours, sizes and finishes, for use on wall or floors, inside and outdoors.
To calculate the Spring Sale Saving price of ranges you're interested in, simply take the 'Now' price shown in blue for any product on the Minoli Outlet Website and multiply by 0.8 or call our team for prices on 01865 778 225. We're closed today for the Easter Monday Bank Holiday but reopen for enquiries on Tuesday 11th April.
Each week we're featuring five of our favourites as examples, with that discount already applied here:
Now £11.98 per m2 with a 50% Outlet Discount and 20% Spring Sale Saving*
Formerly a fundamental favourite in our Core Essentials Collection, this really is an ideal time to purchase a pristine porcelain product that can transform a room with a modern take on the classic look of white Italian marble.
In 41/41 dimensions, we have up to 400 m2 available of this very versatile design, with which to create a crisp, clean, high-shine surface on kitchen, bathroom, utility or cloakroom floors.
---
Now £14.98 per m2 with a 40% Outlet Discount and 20% Spring Sale Saving*
As the name suggests, in the Warm colourway, Dockwood brings the comforting tints of a real timber floor to almost any space in the house including kitchens and living areas, through to hallways, cloakrooms and bathrooms.
In perfectly proportioned 22.5/90 planks, this porcelain product has all the natural knots and gorgeous graining you would find in planed hardwood, but with the minimal maintenance requirements of a man-made material.
---
Gemstones White Polished 60/60
Now £34.80 per m2 with a 40% Outlet Discount and 20% Spring Sale Saving*
Faithfully reproducing the style of Venetian Terrazzo, in the White colourway and a polished, porcelain finish, the effect is of crushed marble and a mirror-like brilliance.
In the generous 60/60 size, Gemstones White is perfectly suitable for installation on floors throughout the home, and we have up to 70 m2 available for use in hallways, kitchens, bathrooms, utility and cloakrooms.
---
Advance Grigio Brick Mosaic 30/60
Now £8.64 per sheet with a 50% Outlet Discount and 20% Spring Sale Saving*
As a premium porcelain product range, the Advance Series has been a long-established line in our Contemporary Essentials Collection but was recently discontinued in the new product replacement cycle.
In the soft, mushroom grey, Grigio colourway and slender geometric strips, these offset brick mosaics are supplied in generous 30/60 sheets, for easy and exact installation as a striking wall surface.
---
Now £7.12 per m2 with a 65% Outlet Discount and 20% Spring Sale Saving*
As a popular ceramic wall tile, previously in our Core Essentials Collection, Elvira Beige has a warm, biscuit tone, emulating natural stone with the irregular markings of its quarried counterpart. With up to 100 m2 available, these soft, matt surface tiles would be ideal for finishing a home renovation project of a bathroom, cloak or utility room.
---
Browse online or come and see the products in person at the Minoli Outlet in Cowley, Oxford and all ranges can be made ready for collection or delivery (at minimal cost depending on location).
Residential or trade customers can purchase as much or as little as they need for their next home improvement or commercial projects, with all the excellent levels of quality and service you would expect from Minoli.
We hope you will be able to take advantage of these incredible savings. Contact details and directions to the Minoli Outlet can be found here.
*The prices shown above have already had the additional 20% Spring Sale Saving applied, over and above the current Outlet discounts. Products with 84% discount include Chamade Gris, Ambienti Brown, MC302 Mosaics and Foster Grey Pre-cut, which is now priced at £3.84 per m2.
Please note: As stated, prices exclude delivery which will be calculated based on quantity and location at minimal cost. Please also note that products purchased from the Minoli Outlet are non-refundable and non-returnable.