Three remarkable offers that can't be missed, ready for collection or delivery from the Minoli Outlet store, while stocks last.
---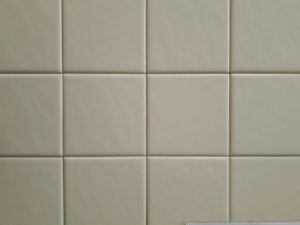 Now £5.00 per m2 with a special 83% saving
The Thai range was one of the most frequently purchased series from our Core Essentials Collection for kitchen and bathroom walls and we're now seeing a notable resurgence in demand for more compact format, gloss, ceramic tiles.
In this 10/10 size it's ideal for those wanting a more traditional finish behind cookers and sinks, through into utility areas and also for bathrooms and cloakrooms.
This Pastel Beige colourway is actually deep greige in tone and is highly practical and easily cleaned with its shiny, finish.
We have a stockholding of up to 25 m2 and, with a special 83% saving at just £5.00 per m2 (inclusive of VAT), this is a truly affordable inclusion for your forthcoming home improvement project.
---
Bravestone 3D Wave Pearl Matt 40/80
Now £27.83 per m2 with a 50% saving
The Bravestone series is distinguished by the variety of layered shading within the stone-effect surfaces which brings a dynamic dimension to interior designs. In the 3D Wave format, these characteristics are augmented by the sublimely sculpted surface which features a ribboned relief and tactile texture.
The Pearl colourway is a natural, pale taupe tone and, in a rectified 40/80 size, this limited batch of up to 20 m2 would be ideal for installation on walls in bathrooms, cloakrooms, utility or kitchens.
From within our Contemporary Essentials Collection this product parcel was part of a cancelled order for a residential development and, as such, is marked for clearance with a 50% saving at £27.83 per m2 (inclusive of VAT).
---
Now £7.92 per m2 with a special 78% saving
Until recently the Gi Series featured prominently in the Minoli Core Essentials Collection and was frequently specified by property developers and homeowners seeking a minimalist, polished porcelain tile at an attractive price point.
In the Black colourway and 30/30 dimensions with rectified edges, Gi has tints of shiny tarmac and is perfectly appropriate for use on floors or walls in kitchens, bathrooms, utility or cloakrooms.
With a stockholding of up to 90 m2 available, at £7.92 per m2 with a special saving of 78% (inclusive of VAT), this is an unmissable opportunity to include a high-grade porcelain product in your home renovation plans.