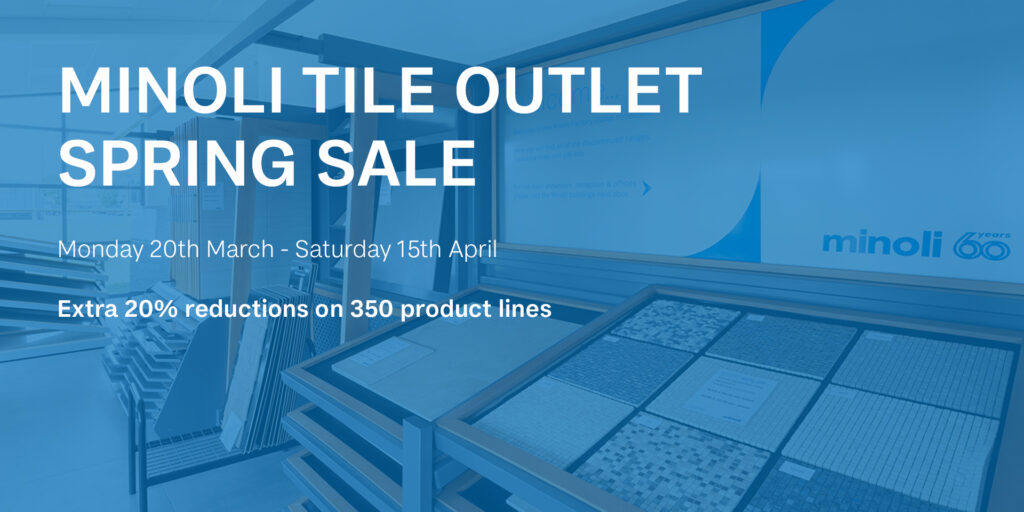 From Monday 20th March until Saturday 15th April we're offering an extra 20% saving on previously discounted prices across all products in Minoli Outlet stock, with items marked down by as much as 84% against the original retail price.
To calculate the Spring Sale Saving price of ranges you're interested in, simply take the 'Now' price shown in blue for any product in the Tiles section of the Minoli Outlet Website and multiply by 0.8 or call our team for prices on 01865 778 225.
With new lines recently added, there are now 350 different designs available with prices starting from just £3.84 per m2 (inclusive of VAT)*.
Browse online or come and see the products in person at the Minoli Outlet in Cowley, Oxford and all ranges can be made ready for collection or delivery (at minimal cost depending on location).
Minoli Outlet stocks include porcelain and ceramic tiles with marble, stone, terrazzo, wood, concrete and even metal-effect finishes, with dozens of different colours available.
There's a vast array of product types across the ranges including large format 120/120 tiles, mosaics, décor and 3D designs, smooth or structured surfaces, those with rectified or tumbled edges, and options for use on wall or floors, inside and outdoors.
Residential or trade customers can purchase as much or as little as they need for their next home improvement or commercial projects, with all the excellent levels of quality and service you would expect from Minoli.
Each week we're featuring five of our favourites as examples, with that discount already applied here:
Marvel Bardiglio Grey Polished 45/90
Now £51.84 per m2 with a 40% Outlet Discount and 20% Spring Sale Saving*
Featuring a high-gloss finish and a soft pattern resembling layered grey brushstrokes, with the practical and aesthetic qualities of porcelain, the design is inspired by the slate-like markings of Bardiglio marble.
With precision rectified edges, this product would be ideal for use to create a striking floor finish in kitchens, bathrooms, utility, cloakrooms and living areas, and we have a generous quantity of up to 240 m2 in stock.
---
Now £34.57 per m2 with a 40% Outlet Discount and 20% Spring Sale Saving*
One of our most frequently specified, wood-effect ranges in porcelain, we have up to 150 m2 available with pale timber tones and the natural knots and graining you would find in planed hardwood planks.
Creating a warming wood-look floor finish in kitchens, bathrooms, utility and cloakrooms, this tile could be used to create continuity from indoor living spaces through to outdoor patio areas, with an R11 slip-resistance rating.
---
Now £24.00 per m2 with a 50% Outlet Discount and 20% Spring Sale Saving*
Imitating natural stone with its subtle tones and subdued colourway, this premium porcelain tile brings an earthy ambiance to any surface onto which it is installed, with up to 240 m2 ready for collection or delivery.
Appropriate for all types of floor and wall applications, from kitchens and living areas, through to hallways and bathrooms, it will deliver a crisp and contemporary look, with the durability of a premium, porcelain tile.
---
Tumbled White Matt Mosaics 30.2/30.2 Sheets
Now £2.87 per sheet with a 70% Outlet Discount and 20% Spring Sale Saving*
A rare opportunity to purchase some natural stone mosaics, we have up to 30 m2 available through the Outlet with softer, pale white tones and sold in sheets for ease of installation.
Used to create a feature wall or simply trimmed and used as bands or borders, being a natural product, these stone mosaics require sealing prior to installation, and we can gladly advise on how best to do that.
---
Now £11.52 per m2 with a 40% Outlet Discount and 20% Spring Sale Saving*
As a neutral but realistic stone-effect tile in ceramic, the Tundra series is favoured by those wanting a clean and modern finish to walls in kitchens, bathrooms, utility and cloakrooms.
With up to 400 m2 in stock, Tundra Sand is a warm, multi-tone, sunny beige and has a solid depth to its design, making it ideal for creating a soft and subtle canvas against which to showcase other fixtures, fittings and furniture.
We hope you will be able to take advantage of these incredible savings. Contact details and directions to the Minoli Outlet can be found here.
*The prices shown above have already had the additional 20% Spring Sale Saving applied, over and above the current Outlet discounts. Products with 84% discount include Chamade Gris, Ambienti Brown, MC302 Mosaics and Foster Grey Pre-cut, which is now priced at £3.84 per m2.
Please note: As stated, prices exclude delivery which will be calculated based on quantity and location at minimal cost. Please also note that products purchased from the Minoli Outlet are non-refundable and non-returnable.