Archive for the 'Press' Category
Mid-Size family businesses (SME) are generating the lion's share of growth due to their ability to make decisions, seek out opportunities and offer outstanding customer experiences according to ACCA (the Association of Chartered Certified Accountants).
In Oxfordshire, Minoli have created a business, which has survived many a recession and will be celebrating their 55th year anniversary this year. Operating in the highly competitive market of supplying high quality floor and wall tiles from Italy to residential, commercial and retail property. The company started by the current managing director's Jonathon Minoli's grandfather at the very start of the swinging sixties, when Made in Italy symbolised great designer style.

Jonathon Minoli – with Peter & Luigi Minoli pictured
Jonathon Minoli has taken the legacy of his father and grandfather to create a commercial entity that is a symbol of twenty-first century business. 'Customer service' is at the core of the business, from ensuring that the latest design of tiles at competitive prices are available to clients, delivery and care of every customer regardless of the size of the order.
Whilst other companies have been forced to cut back, Minoli have quietly and efficiently created a productive, skilled and loyal workforce. Innovation has always been customer focused. The tiles are despatched from their own 36,000  sq ft. warehouse and showrooms in Oxford using their own distribution; wrapped and packed with the same care of a high-end luxury on-line retailer. It is no wonder that for four consecutive years, the company has won Excellence in Distribution from The Tile Association.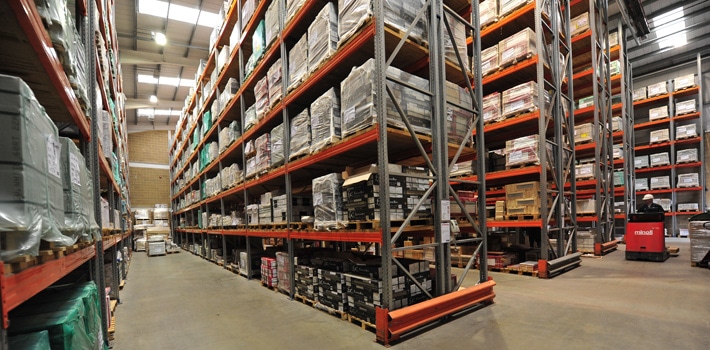 Minoli Distribution Centre – Oxford
In 2013, Jonathon Minoli took a calculated and well-researched risk and opened a London showroom in the heart of Marylebone. The showroom epitomises Minoli's design ethos.  All the wall and flooring finishes are displayed in art gallery style.  Bespoke design cabinets open with smooth precision to display the tiles in meticulous fashion. Jonathon Minoli commented 'many of our clients are based  in London, so  showroom and offices are really an addition to the service we offer giving simple access to products and information within the west End of London. We update our ranges in the Spring and Autumn with launches so as our clients always have the latest designs.'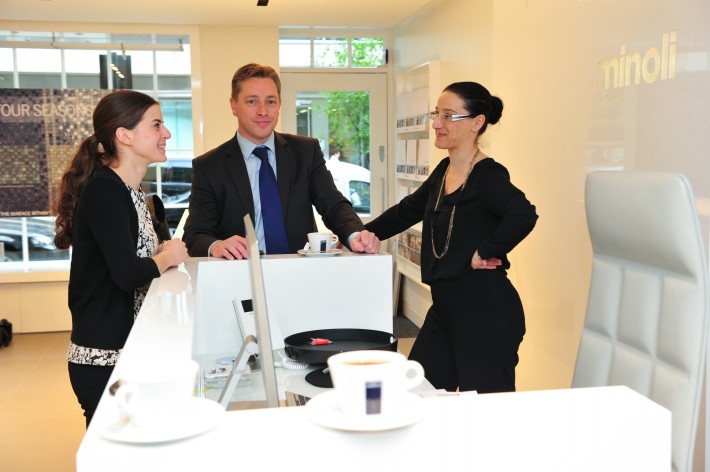 From left to right – Sophie, Jonathon & Maria
Jonathon added 'I have the legacy of my father and grandfather to protect. We have the confidence, thanks to a dedicated team and strong financial controls to grow the business further and take advantage of the growth in all areas of the property industry'.
Posted by Maria Longoni in Press, 26th January, 2015