More Information
Oxford Showroom
---
Minoli relocated from London to Oxford after the war. Having initially established themselves near the city centre, Luigi and his son Peter took advantage of Government incentives to move to the current location in Cowley in the 1960's, where the company was first incorporated. On today's site at that time stood a factory producing terrazzo tiles and the operational base for the company's installation division which thrived, working on colleges, car showrooms, hospitals and domestic projects.
Recognising the emergence of Italian ceramic and porcelain tile manufacturing, Peter worked to develop a business wholesaling to local merchants, which soon took over completely from terrazzo production. Forging long-standing relationships with some of the world's pre-eminent manufacturers, Minoli can lay claim to being one of the original, genuine distributors in the UK marketplace.
Now run by Peter's son Jonathon, Minoli has continued to expand, but very much organically with the completion of the new high bay warehouse and showroom facility in the autumn of 1996 and then a further, much larger development in 2002 and 2003, creating far more storage, marketing and administration space.
In its current state, Minoli's impressive, purpose-built headquarters and distribution centre comprises some 5,000 ft2 of showroom space and 22,000 ft2 of warehousing.
---
Showroom & Reception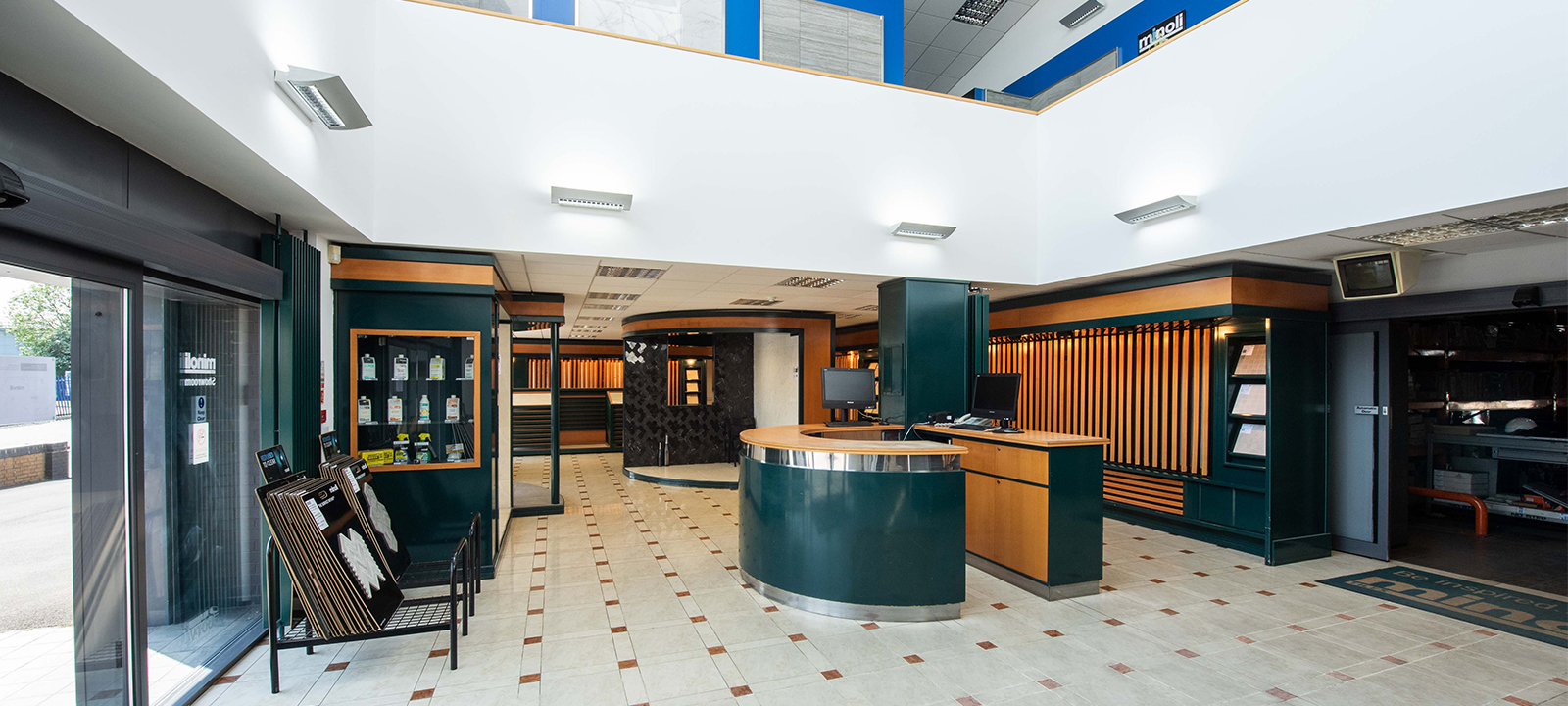 The main Minoli Showroom is a state of the art, purpose built presentation suite that has won wide acclaim from the industry for its unique approach to tile display. First opened in 1996, the objective was to make exploring our extensive ranges as easy and enjoyable as possible. Using large sliding panels and realistic room settings, tiles can be easily compared and customers get a great impression of how the tile will look when projects are complete.
The products and displays within are regularly refreshed and updated so there's always something new and inspiring to see. Whether floor tile, wall tile or mosaic, in ceramic and porcelain, the vast majority are readily available from stock in the adjacent warehouse. Our fully trained and experienced staff are on hand to offer assistance and expert advice, whether for your home, a commercial project or something more unusual. All items are clearly labelled and priced, with brochures and guides available to take away and peruse in your own time.
---
Rustic Showroom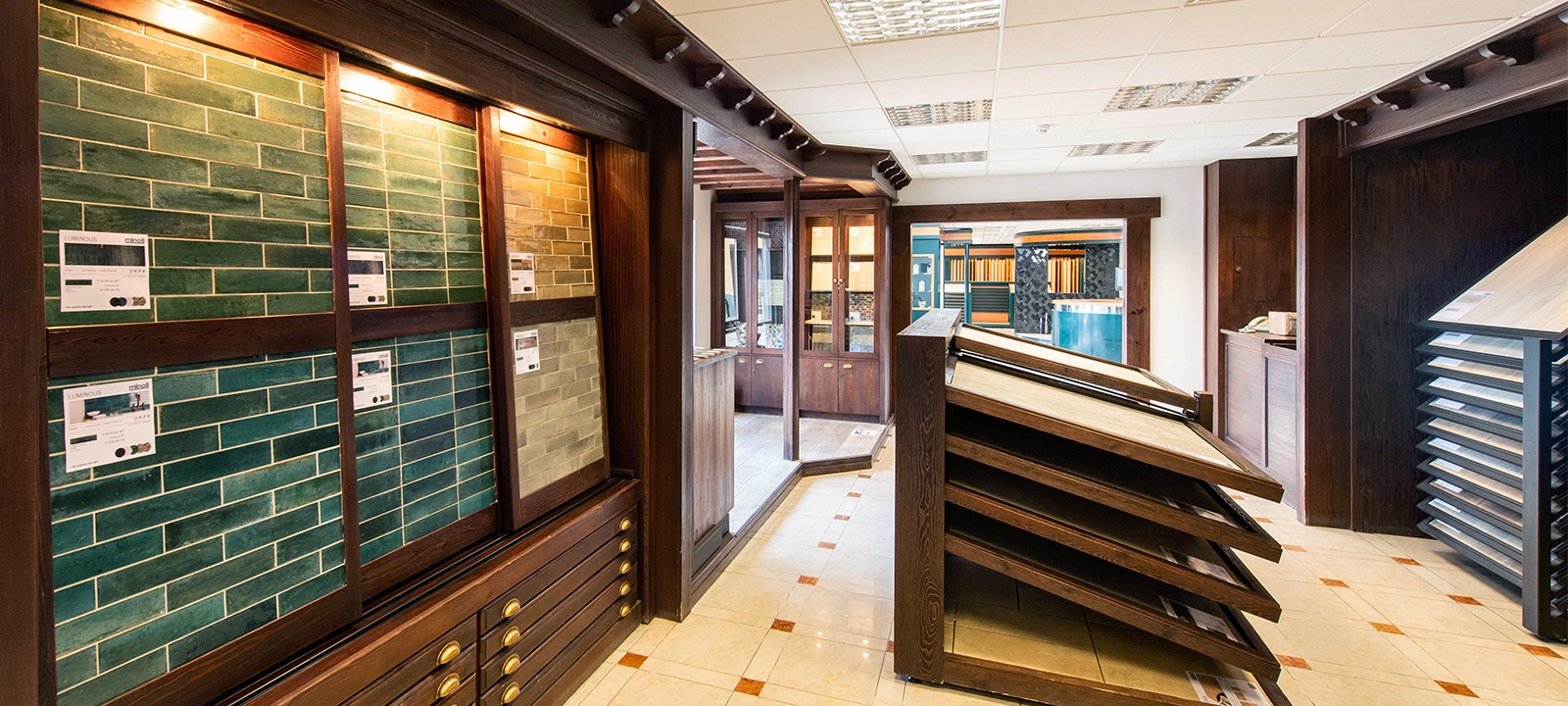 The Rustic Showroom was designed and installed into the existing Minoli facility in 2001, and is specifically set out to show clients the vast range of porcelain and ceramic tiles available with more organic stone and marble style finishes.
This extensive showroom is dedicated to ranges with natural finishes suitable for all residential and commercial projects. There are room setting displays, dressed to demonstrate how a completed project would look, with great care taken to ensure that details like grout colour and edging are an enhancement to the finished effect. Also on display are a range of kitchen mosaic and 10 x 10 cm tiles, again presented to provide a realistic impression of the tiles in situ.
---
Corporate Client Showroom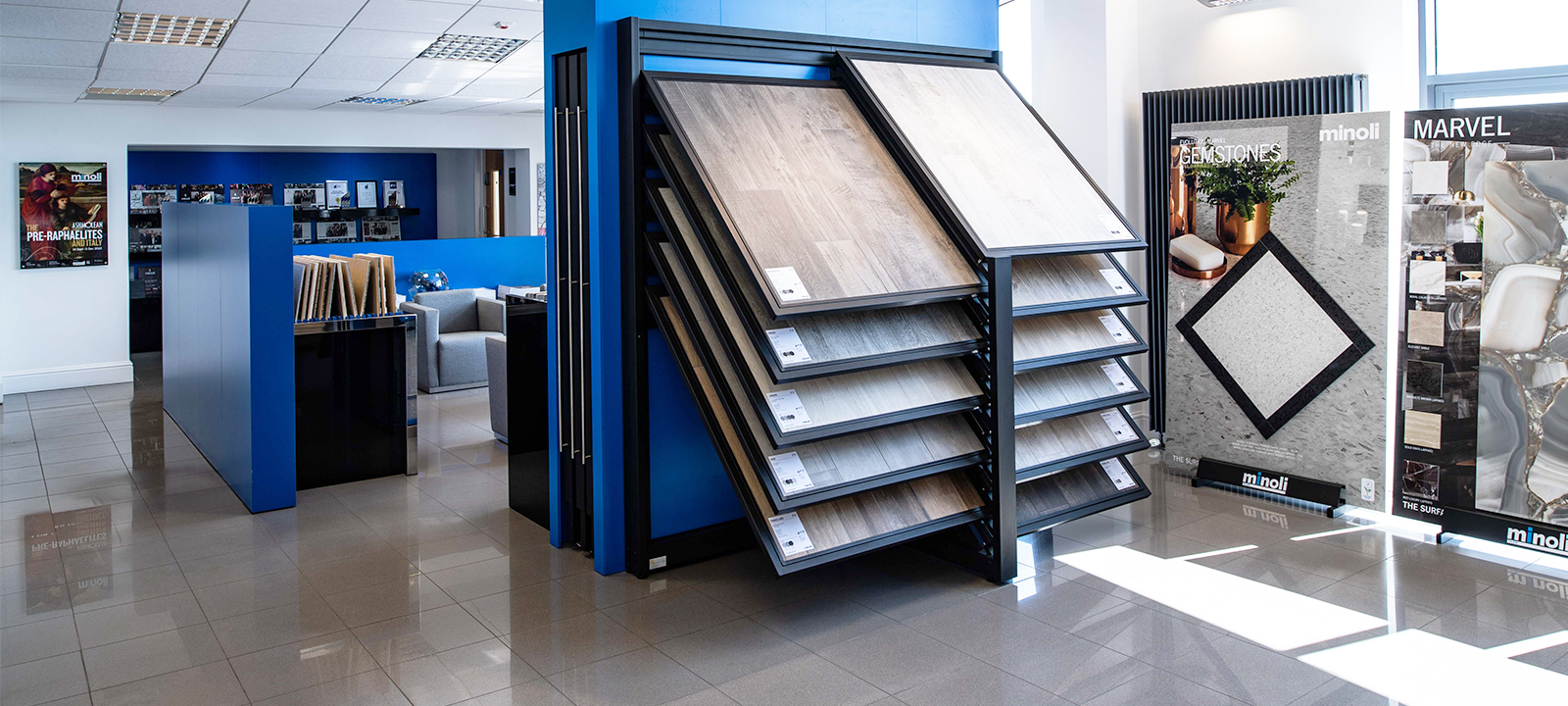 Newly built and opened in July 2010, the Minoli Corporate Client Showroom is a unique and extensive facility built specifically for our business customers. Minoli has a client list including many leading house builders and developers, (Berkeley Homes, St James Homes, Rectory Homes, Pye Homes, CALA Homes, Martin Grant Homes and St George for instance) and household names such as Lexus, Kia, Renault, Jaeger and Primark. This new showroom has been opened with them in mind, as well as any other client who is working on larger projects, such as a development or industrial project.
Spanning the full-width 2000 ft2 mezzanine floor, the open-plan area comprises business lounge with WiFi and TV, 'Lavazza' coffee bar, a private presentation and consultation suite, plus a choice of formal and more casual meeting spaces. Of course you'll also find the most comprehensive showcase of our latest products in stunning room settings and technical panels.
---