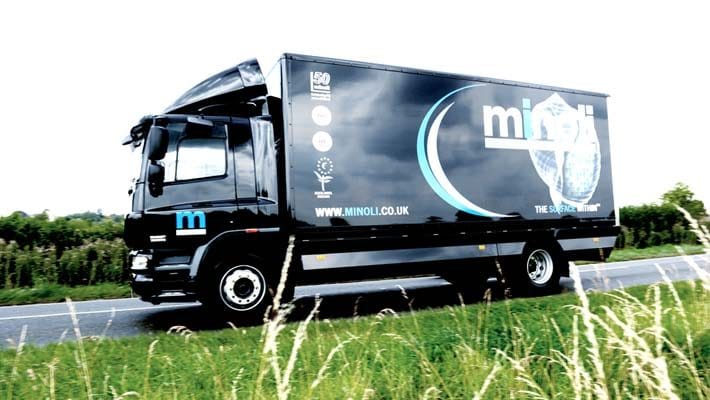 For Minoli, excelling as a tile distributor is not just about getting products shifted from A to B, it's  about consistently meeting the needs and expectations of their clients.
Of course, the delivery fleet has always been an essential asset of the business and, when you cover nearly 600,000 miles per year, and have the capacity to  deliver up to 60 tonnes or 4,000 square metres of tiles in a day, specialist vehicles are required, like the company's new truck.
Managing Director, Jonathon Minoli said, "Our business is reliant upon transporting our goods to numerous very specific locations, but we aim to do so with the minimum environmental impact, maximum efficiency and the highest levels of client satisfaction. We're constantly looking for ways to improve in all these areas, which is why we specifically commission our vehicles with special features".

The latest addition, a DAF CF 65 18T, is fully Euro 5 Emissions compliant with an aerodynamic cab and body to reduce drag. This design, allied to the AS-Tronic gearbox, helps reduce fuel consumption and is kinder to street surfaces with certified 'Road Friendly' suspension.
Efficiency is also improved, with a payload of over 10,000 KG, representing capacity for 14 euro pallets, which means fewer separate trips to and from the Oxford distribution centre.
Once on the road, drivers often fulfil up to 15 deliveries per day, assisted by the 1,500 KG tail lift for ease of unloading and pinpoint kerbside drops. Live vehicle tracking helps accurately predict delivery times and the compact truck body with reversing camera is ideal for negotiating access onto tight development sites.
Jonathon added, "Several of these features have already been tested and the benefits proven on our existing fleet of six further 12.5 T and two 7.5 T DAF trucks, two Fiat Ducatos and a VW Transporter. For many of our clients our delivery team and trucks are the most tangible representation of our service commitment, so it's vital they portray the right image by getting the job done efficiently and effectively".