More Information
---
Minoli 2020 – 60 years, see beyond the surface
---
from 'Within' to 'Beyond' the surface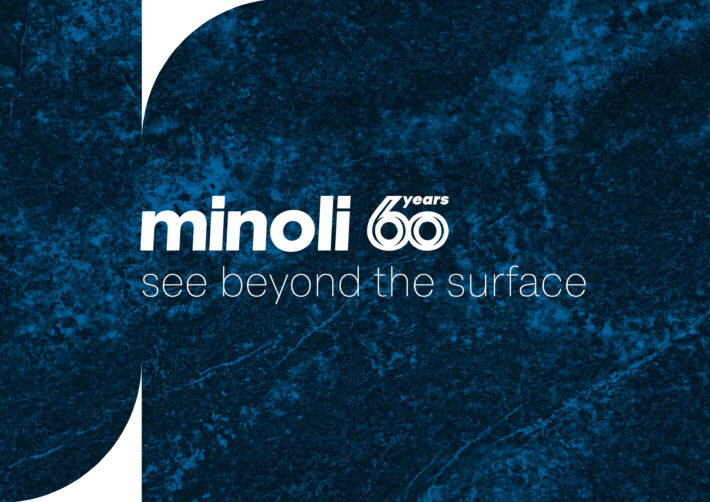 Back in 2006, we embarked on a strategic repositioning of the company, reviewing how we were perceived by you our clients, with a view to launching a new visual identity that could represent Minoli, with both an enhanced commitment to service levels, and increasing the breadth of our offer.
As a result, the 'surface within' idea captured the way we thought, and still think, about the products we seek out and source for you. About the value of the service we provide for you.
"For us tiles create 'the surface within' buildings, connecting rooms and people with working and living spaces, hence our brand signature – The Surface Within".
In that time, we've continued to grow, to do more of we do best; and as 2020 is Minoli's 60th year – a significant milestone – we have decided to mark that occasion, and with a refresh of that same identity.
A rededication to what we believe our reputation continues to be built on.
So whilst our business is all about tiles… that's only just the surface.

We are completely committed to demonstrating that it's what's behind and underneath the surface that makes us unique – that it's what makes the Minoli Team a part of your team and to invite you to 'see beyond the surface'.

To underscore what it is that makes Minoli so resilient, resourceful and reliable.
You will have seen this first on our two new trucks, which were commissioned to further support our service to you. We will continue launching this bold new message, together with the striking new designs that incorporate some of the newest additions to the Minoli range, throughout June, July and the following months…
…so for now this is just an introduction – one that has excited and re-energised us – and is a constant reminder of our commitment to you.
… It's what make us Minoli.
Over the coming days and weeks we will be going in to a little more detail, but for now I do hope that this helps reinforce our commitment to you as a client, stock availability and above all else service.
Posted in Minoli, See beyond the surface