More Information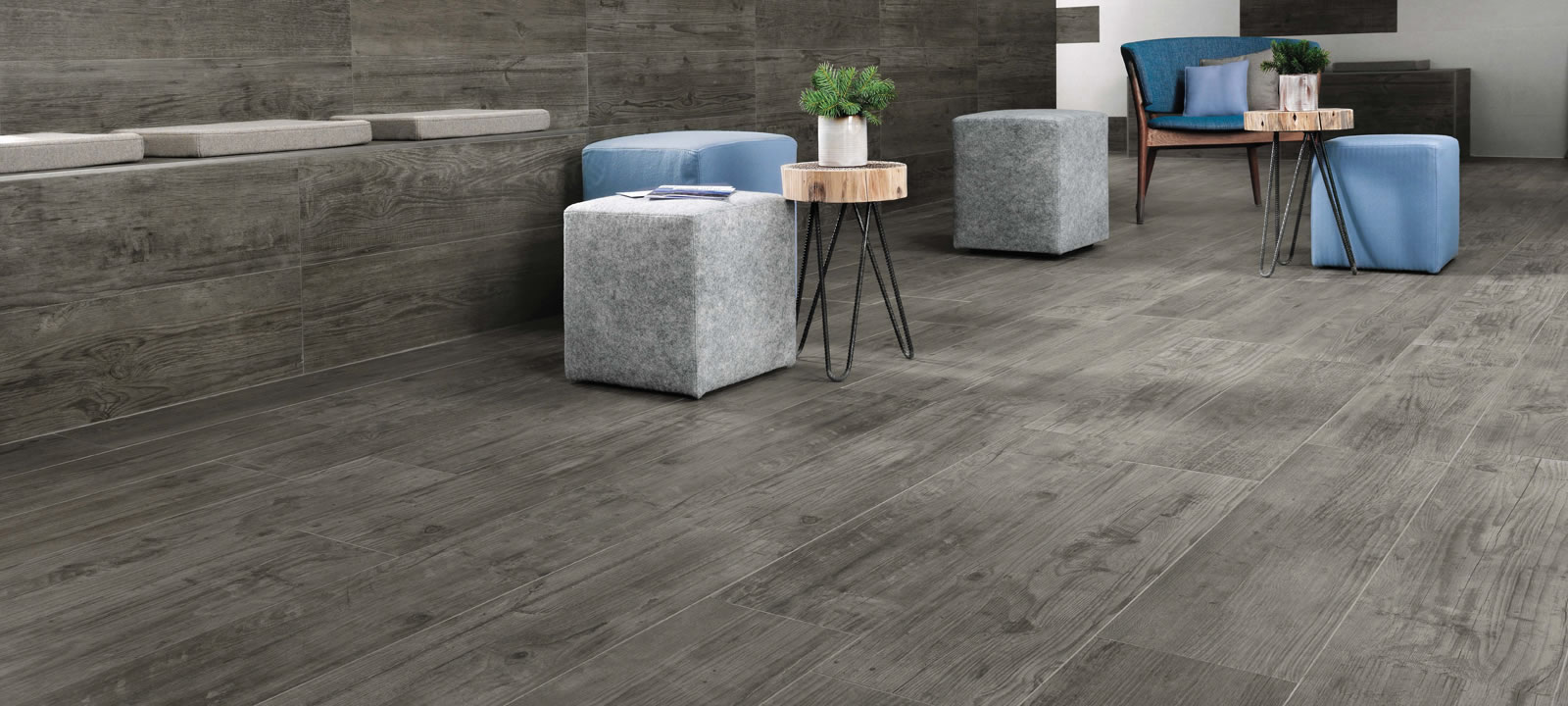 Minoli Axis wood look porcelain tiles are made from Italian porcelain replicating natural wood surfaces. First introduced way back in 2013 at the annual Home House preview event, showcasing all the new material for 2014 and beyond. The Axis series has been developed and extended ever since, becoming an extensive collection suitable for so many uses.
Axis wood porcelain tiles have the intense and natural character of wooden flooring, produced on a practical and durable material. Porcelain tiles retain their shape, colour and surface designs over time and provide safe and functional floors for all around the home, office, and other residential and commercial properties.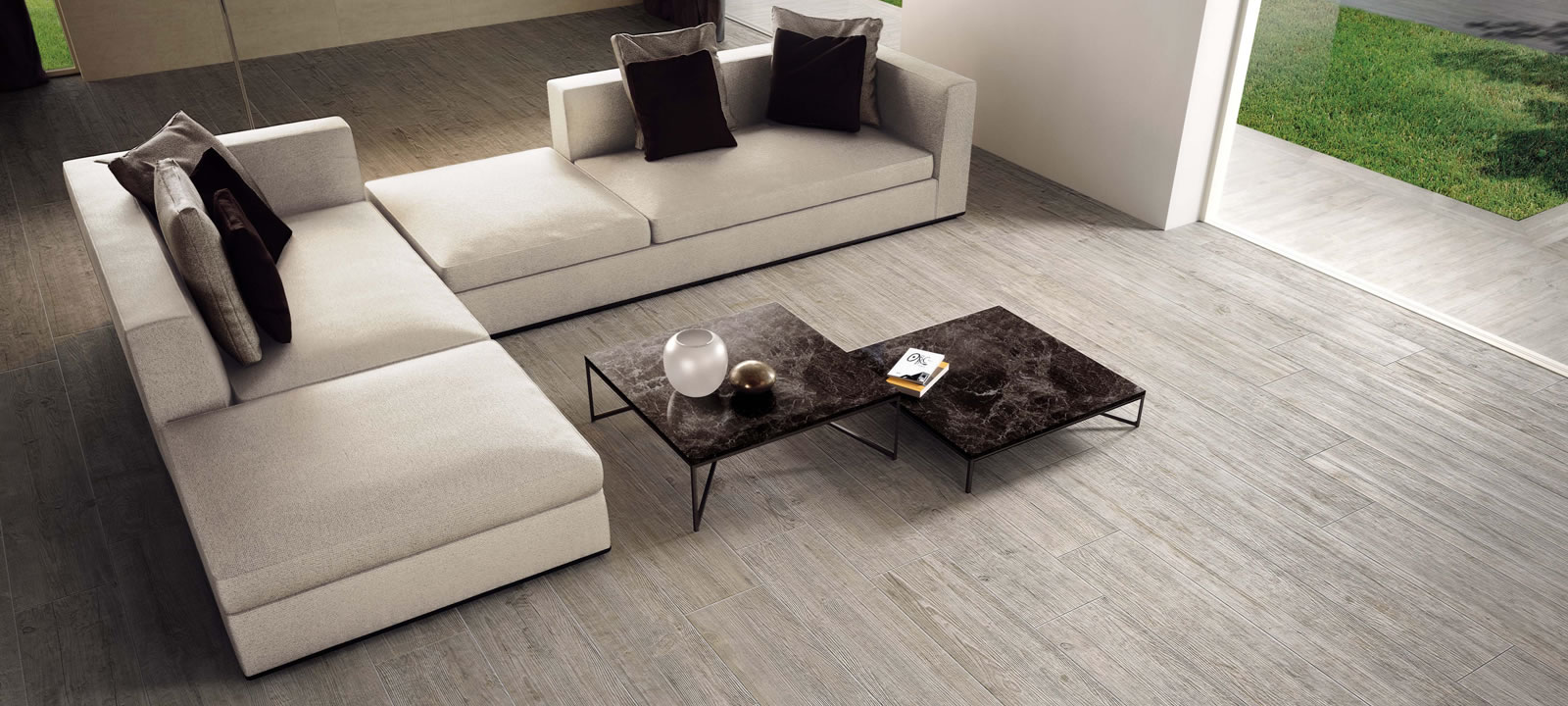 Complete with a high slip resistance of R10, Minoli Axis natural wood effect tiles create impeccable surfaces of wooden designs with all the beauty and character of real wood floors. Enhanced with a textural wood look pattern which is accompanied by wooden grains, surface knot-like designs with realistic splits and other wood like features, true to its natural counterpart.
Axis is produced in an array of sizes, mosaics, and special pieces in either a Matt or Strutturato (Grip) finish. Outside porcelain slabs are available in a 20mm thickness which can be installed on grass, gravel or pedestals. There are six neutral shades to choose from including White Pine, Silver Fir, Golden Oak, Brown Chestnut, Dark Oak, Grey Timber, to suit any interior, exterior, colour palette or design.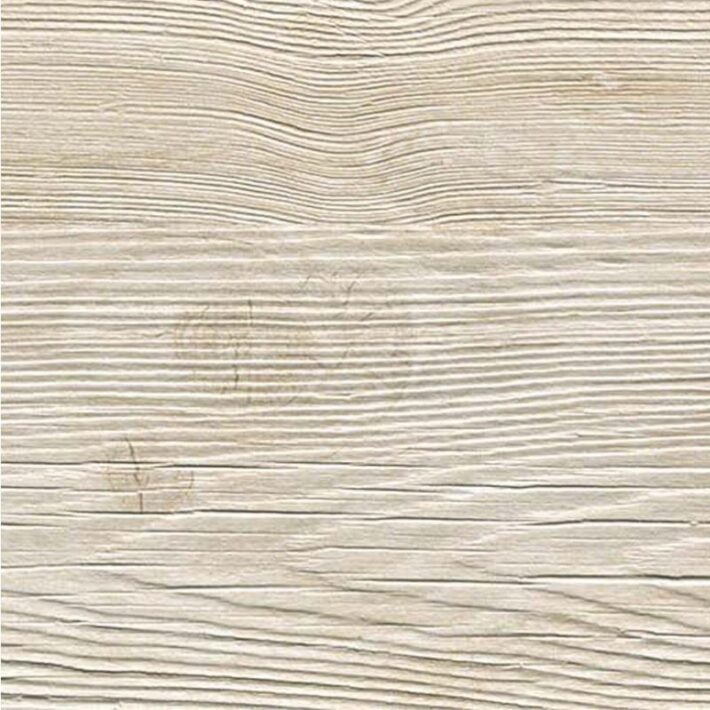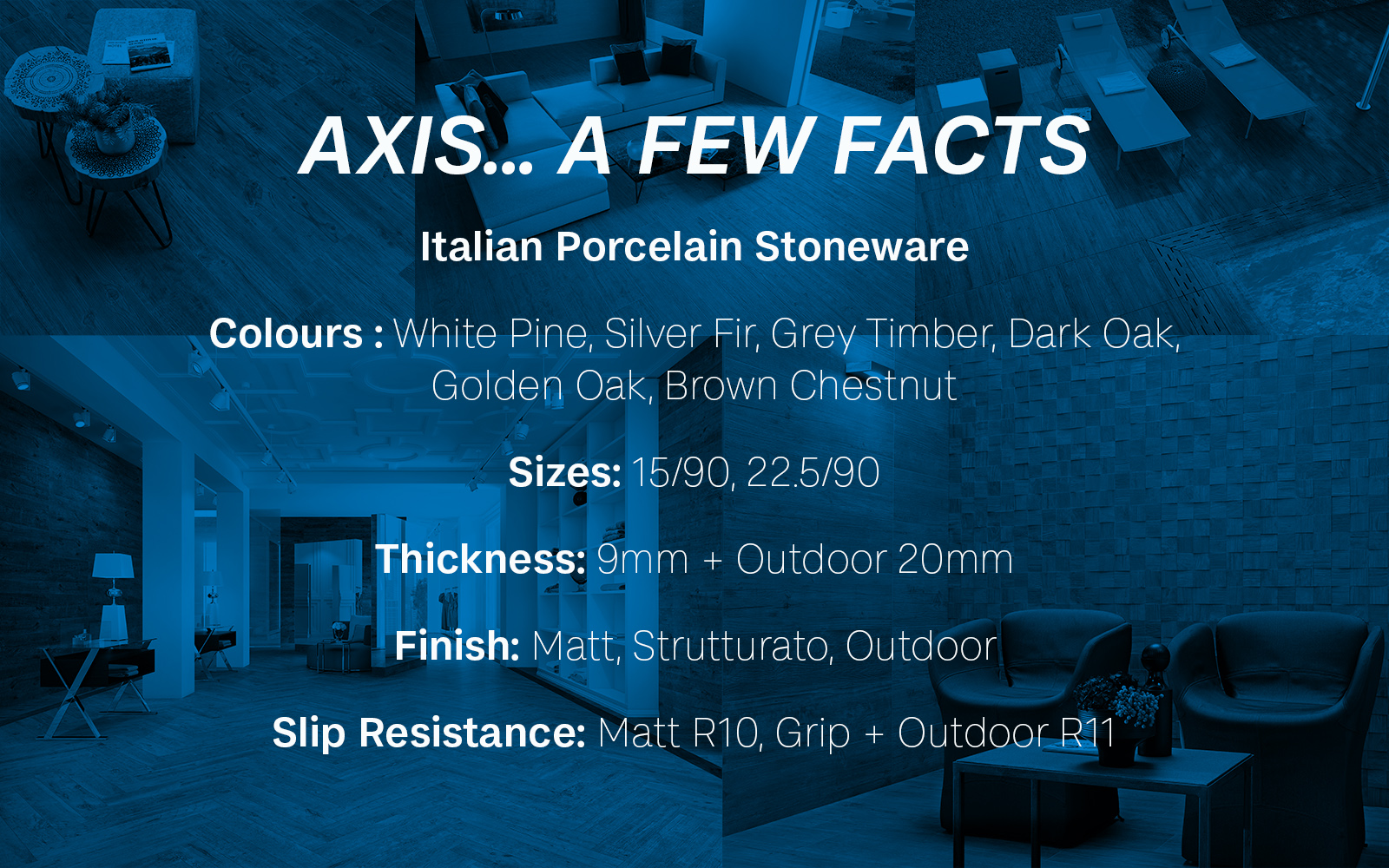 Axis is a collection with excellent design potential and a contemporary personality. The look is of original wood grains worn by time. Minoli Axis wood effect tiles are ideal for exteriors and interiors. They provide excellent technical performance as well as perfect visual continuity indoors and out. A continuity of style that means being able to continue into outdoor spaces as an extension of the indoors. Use Axis for by the pool side with special outdoor pieces such as steps and curved pool edging.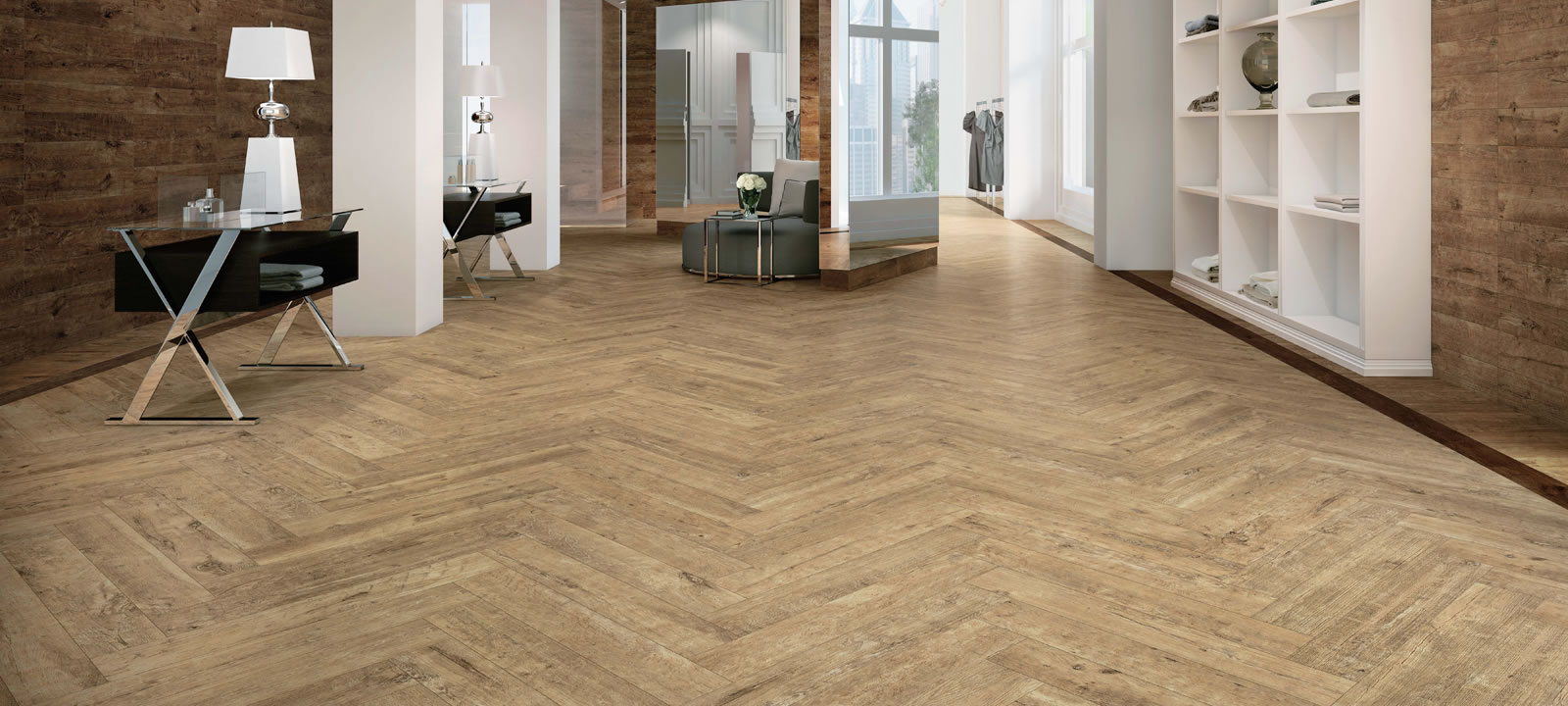 Minoli wood look tiles rediscover the charm of traditional wood floors and re-imagines a wood surface as a porcelain tile. Axis are enhanced with surprising realism, all the beauty of irregular veining with a strong visual impact and uniqueness displayed over many surface designs throughout the collection. The natural energy of wood is apparent throughout the surface patterns.
Axis porcelain tiles are durable, low maintenance and dependable. With an anti-slip surface, frost and chemical resistance as well as a full coloured body. Emulating wood in a natural and unique way in which every detail accentuates the marked character of the inspirational material.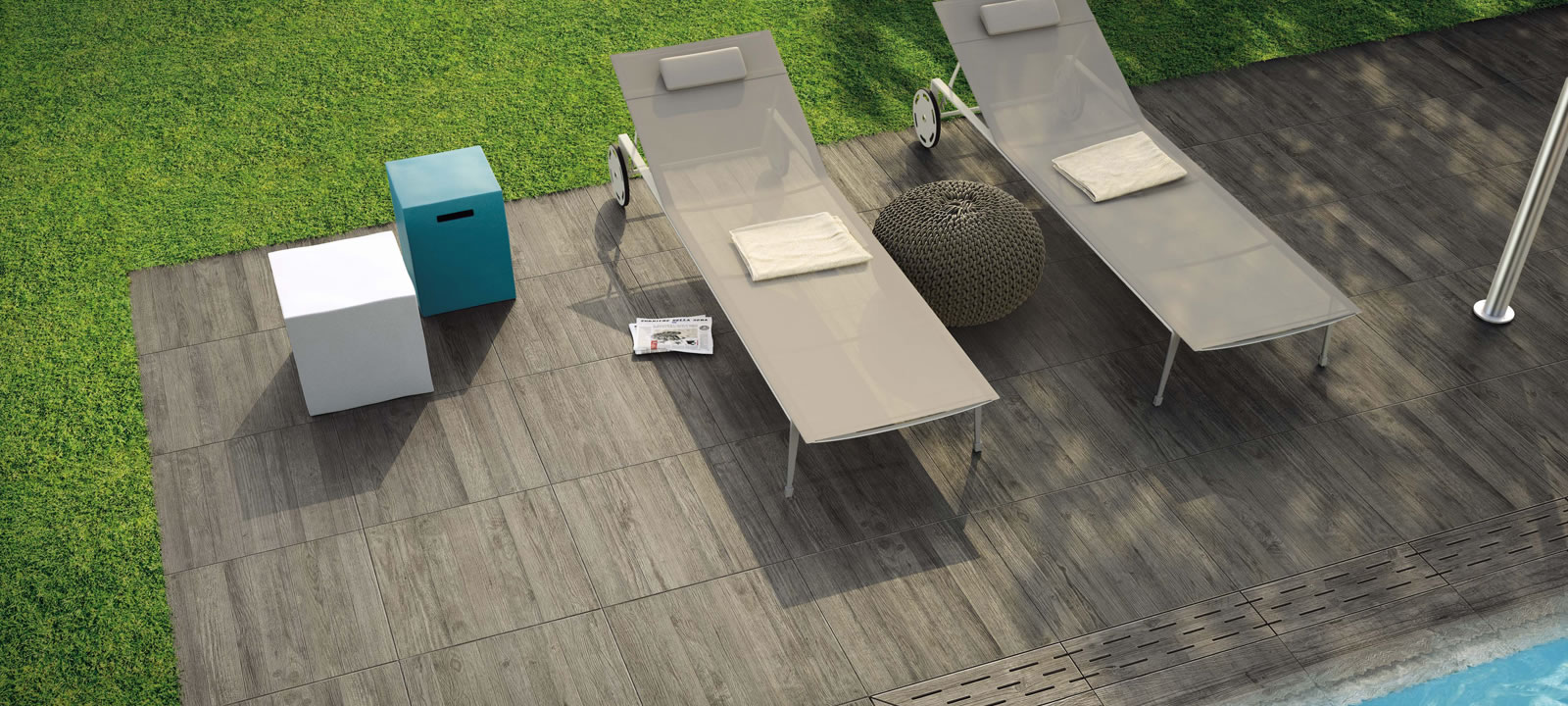 The Lastra 20mm version in sizes 60/60, 45/90 and 40/120 offer visions that evoking wooden planks of different widths and completes the range with a product featuring the highest mechanical resistance that is suitable for public and private outdoor venues. Axis are a solution that is easy to install and maintain which providing a safe and attractive surface for living areas
Posted in Fab Fact Friday, Minoli