More Information

For this Fab Fact Friday, we embark upon the great Minoli Bravestone collection. A porcelain tile range of stone effect surfaces, natural shades, and realistic surface textures.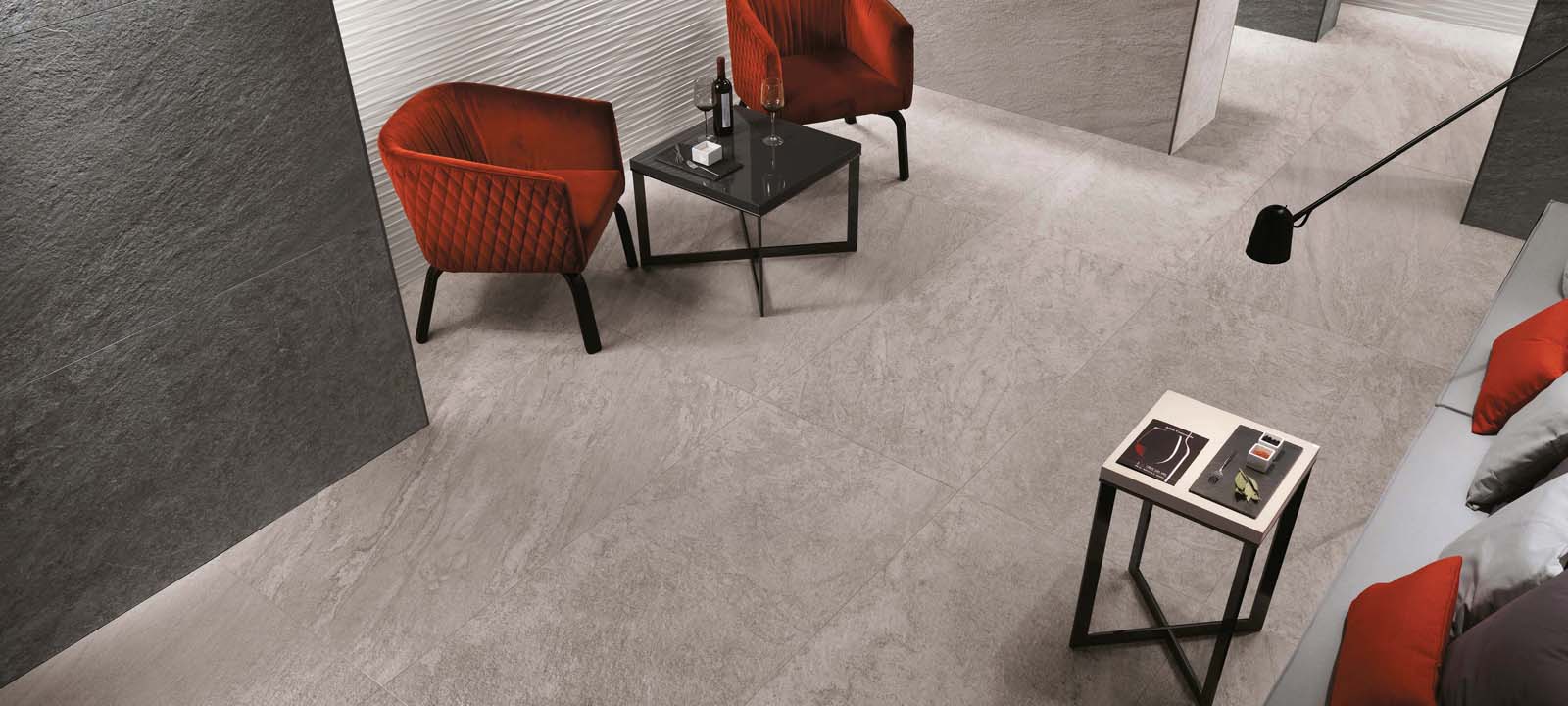 Realism, simplicity, and technical performance: Minoli Bravestone tiles are suitable for both contemporary interior and exterior designs. A complete, versatile range of formats and finishes, ideal for residential and commercial outdoor floors, patios, and walkways.
Earthy and bold, Brave porcelain tiles are available in five tones, from the lightest, an off-white colour called Gypsum to the darkest blue tone, Coke. Strong in surface design and in its durability, Bravestone tiles are rich in natural details, giving character to spaces with a neutral but bold style.
Bravestone Gypsum

Bravestone Pearl

Bravestone Grey

Bravestone Earth

Bravestone Coke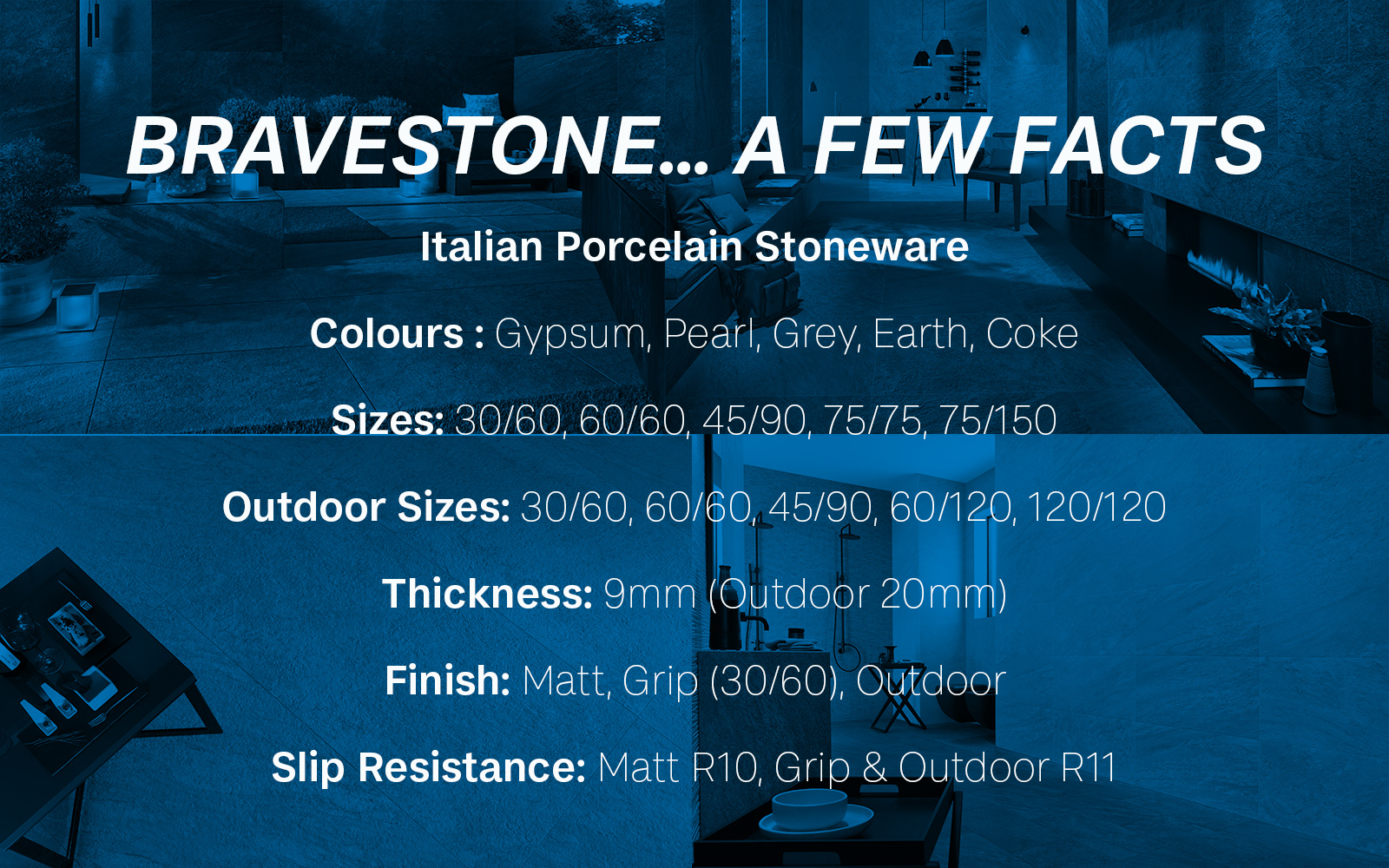 The Bravestone series guarantee maximum mechanical strength and hygiene, creating a balance between reliability and beauty of the natural material of inspiration. Bravestone stone look tiles represent the visual power and expressiveness of stone. The textural surface enhances the realism and intensifies the surroundings, both indoor and out. Micro-textured surfaces of crystal-like quartz not only add to the slip resistances of these porcelain tiles but also add a natural quality of quartz to the surface. Multi-tonal shades, textures, and the slightly sparkled effects creates depth and character, allowing Minoli Bravestone to appear authentic and beautiful, while maintaining a pleasant finish to the touch.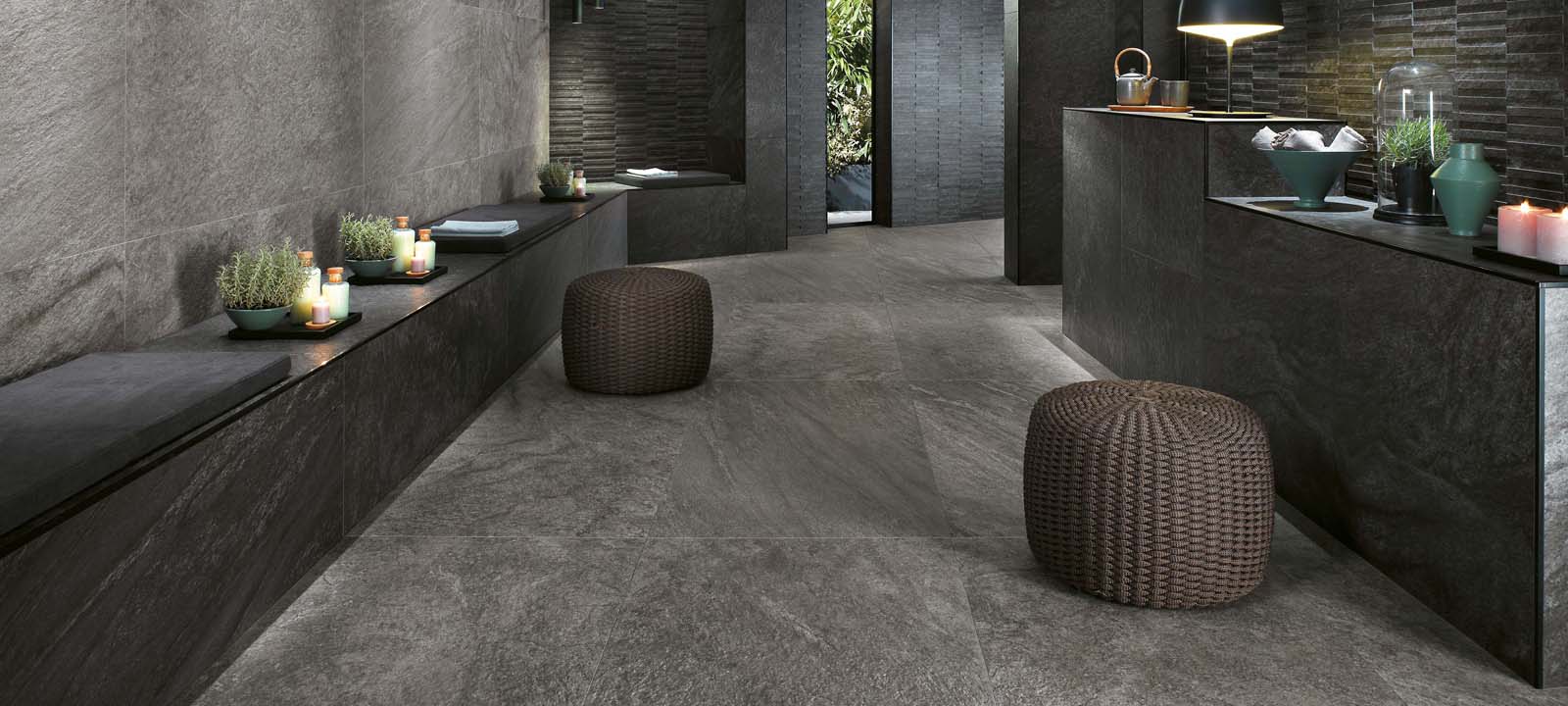 Minoli Bravestone stone effect tiles provide practical floors for interiors and exteriors and natural look stone surfaces for floor and walls. All the beauty of real stone with the practicality of porcelain. Bravestone stone tiles are hygienic, these porcelain tiles are non-porous and do not absorb dirt, odours, mould, or bacteria. They are easy to maintain and are resistant to household cleaners and chemicals. Functional and versatile, along with frost resistance, Minoli Bravestone are fireproof and will not warp under high temperatures. Porcelain stoneware provides a strong and sturdy surface for all environments, with resistance to scratching, these tiles will not wear over time, or change shape or colour.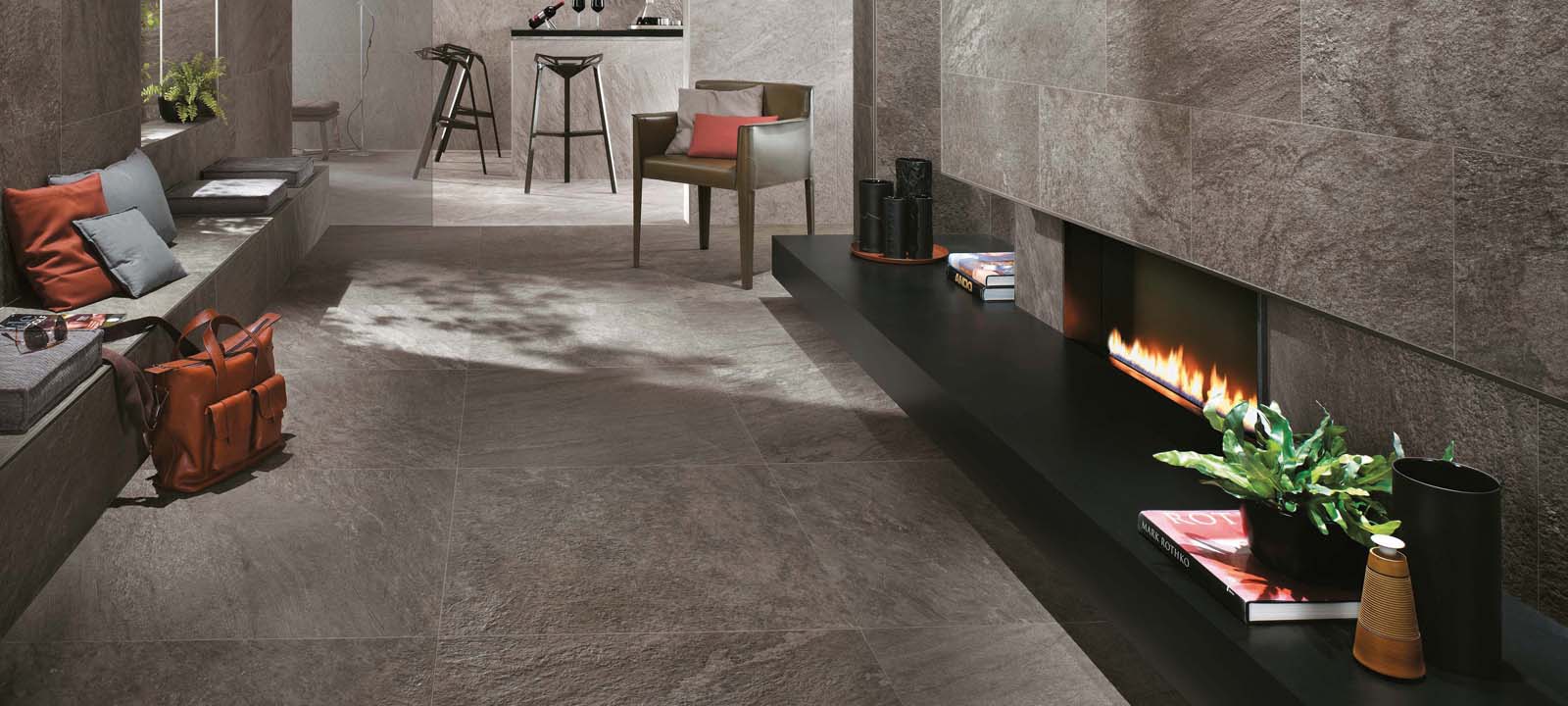 Bravestone stone porcelain tiles are available in a range of sizes. The large 75/150 size enhances interiors, while the rectified edges provide almost seamless visions across floors and walls. Bravestone Matt tiles are available in five shades and come with a 9mm thickness in five sizes all with a slip resistance of R10. Grip textured tiles with a 9mm thickness are available in size 30/60 only. Bravestone Grip 30/60 tiles are suitable for floors within shower, wet and damp areas such as bathrooms and walk in shower units. Minoli Bravestone Grip, anti-slip tiles have a very high slip resistance of R12.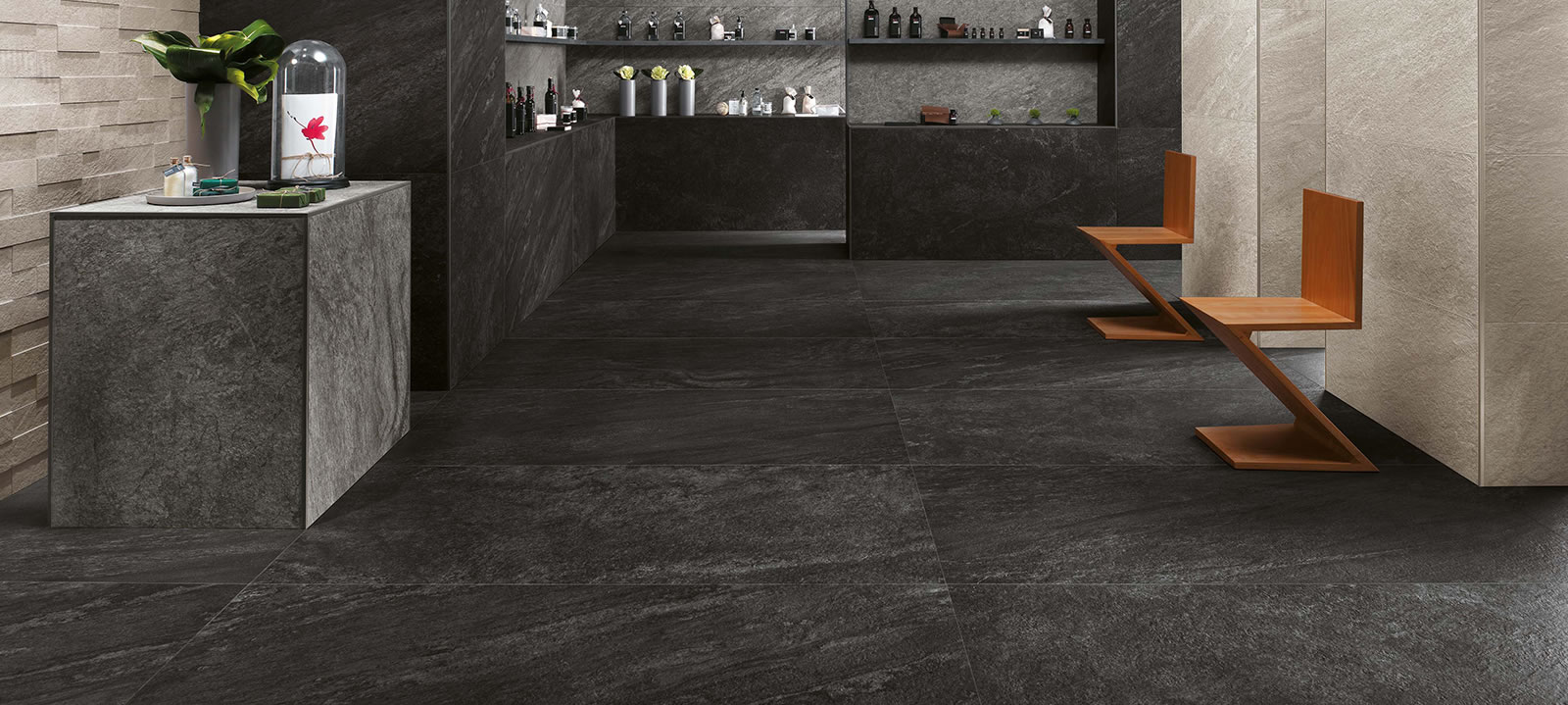 Outdoor tiles from the Minoli Bravestone range in 2cm thickness combine the strength of the natural material in durability, frost resistance, slip resistance, wear resistance and weather resistance, for the design of safe outdoor spaces. Bravestone Lastra 20mm are suitable for resisdetial and commercial outdoor spaces, especially for patios and walkways. These 20mm outdoor tiles can be installed on top of pedestals, or gravel or grass. Along with a realistic stone look, Bravestone obtain a very high slip resistance of R11, perfect for winter months and wet weather. Frost resistances means Bravestone tiles will remain the same, have the same physically properties and will remain strong and complete even at low temperatures.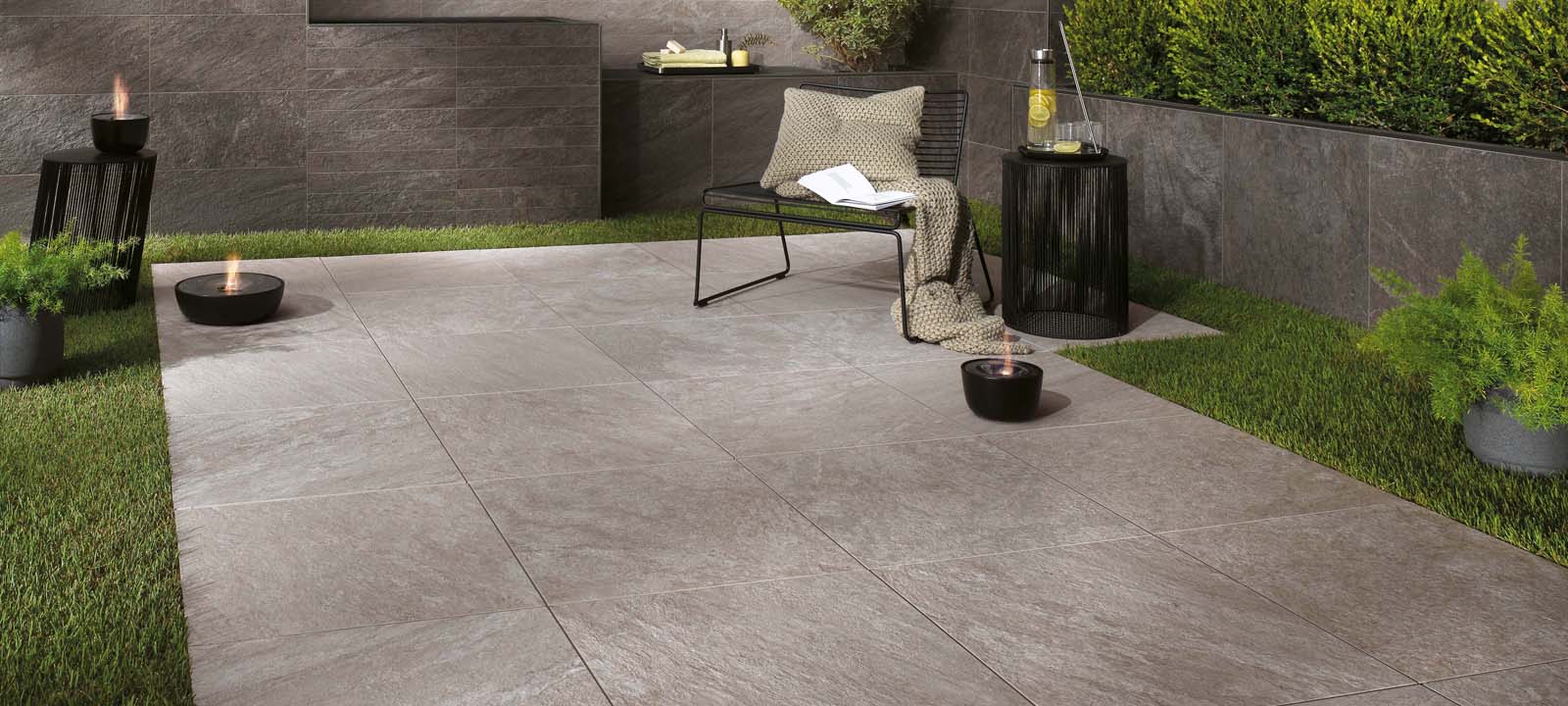 Thanks to the extensive range that is the Minoli Bravestone collection, homes and venues can benefit from visual continuity and coordination from interiors to exteriors. Elongating and maximising the space. Along with porcelain interior and exterior tiles, Minoli Bravestone tiles are also manufactured as ceramic wall tiles, 3D ceramic wall tiles, porcelain mosaics and 3D mosaics as well as special pieces such as L pieces for steps and tiles for around a swimming pool.

Posted in Fab Fact Friday, Minoli