More Information

Minoli Four Seasons, a delectable collection of glistening porcelain mosaics of iridescent colours that reflect the light and enhance the rich hues.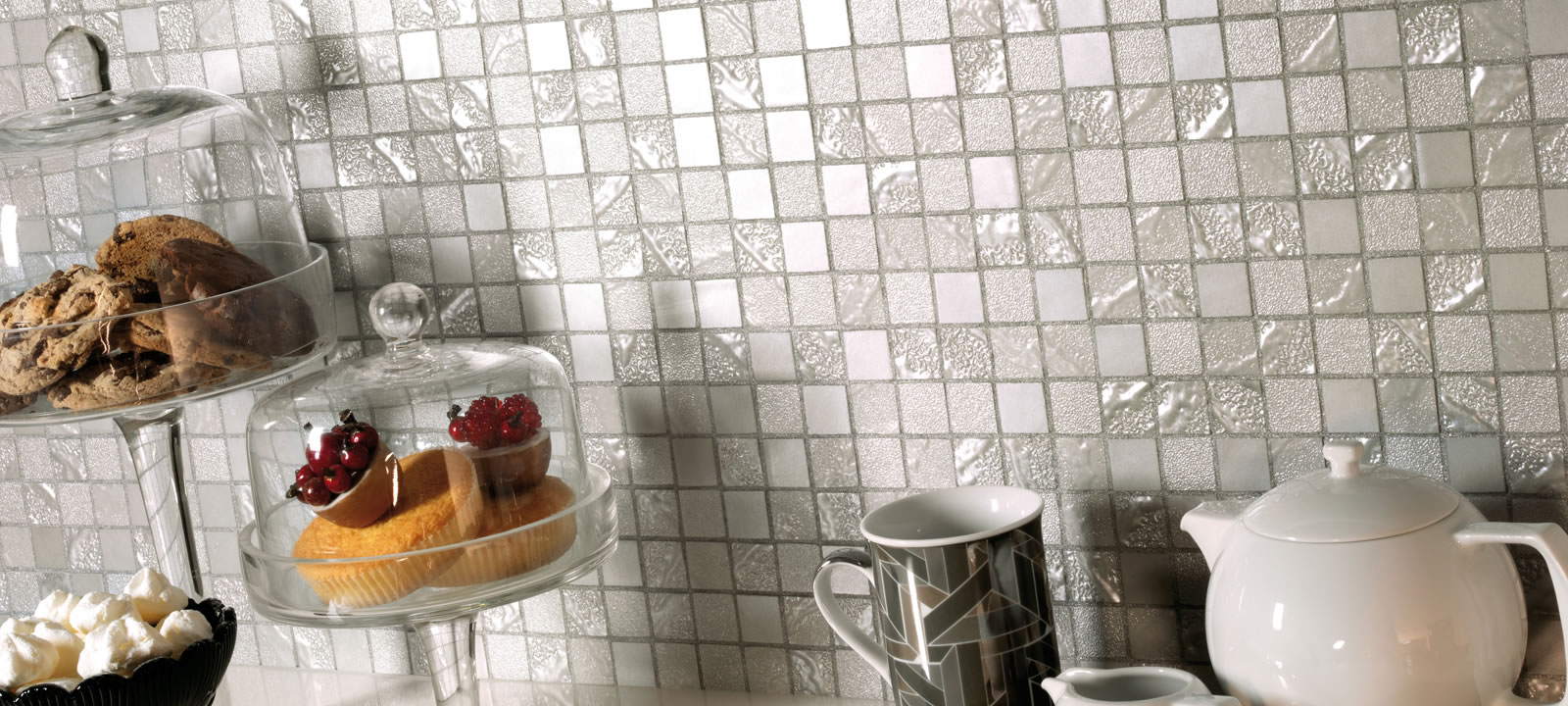 Four Seasons was first introduced as a Minoli collection at the 2012 preview at the annual preview event venue, Home House on Portman Square, Marylebone, London. The night saw hundreds of guests enjoying prosecco and canapes in the enchanting location of the private members club Home House.
These beautiful mosaic pieces are crafted from Italian porcelain into delicate décor items, decorated with glazed droplets for a gloss finish, which enrich a setting making it particularly brilliant and creating spectacular visions for floor and walls.
Four Seasons Spring

Four Seasons Sand

Four Seasons Summer

Four Seasons Snow

Four Seasons Fog

Four Seasons Oasi

Four Seasons Autumn

Four Seasons Wood

Four Seasons Ocean

Four Seasons Bloom

Four Seasons Winter

Four Seasons Tulip

Four Seasons Mix
A colour palette of 13 shades and 2 cascades. Four Seasons Cascade's are designed as a floor to ceiling installation. The name Cascade describes the imagery of falling rain, which is displayed as two colours falling into each other like water. The colour palette of Four Seasons is broad and blends natural tints with cutting-edge colours: from natural hues, such as beige, white and brown, to the more elegant and precious shades of gold and silver, as well as, bright and lively tints such as lilac, purple and blue.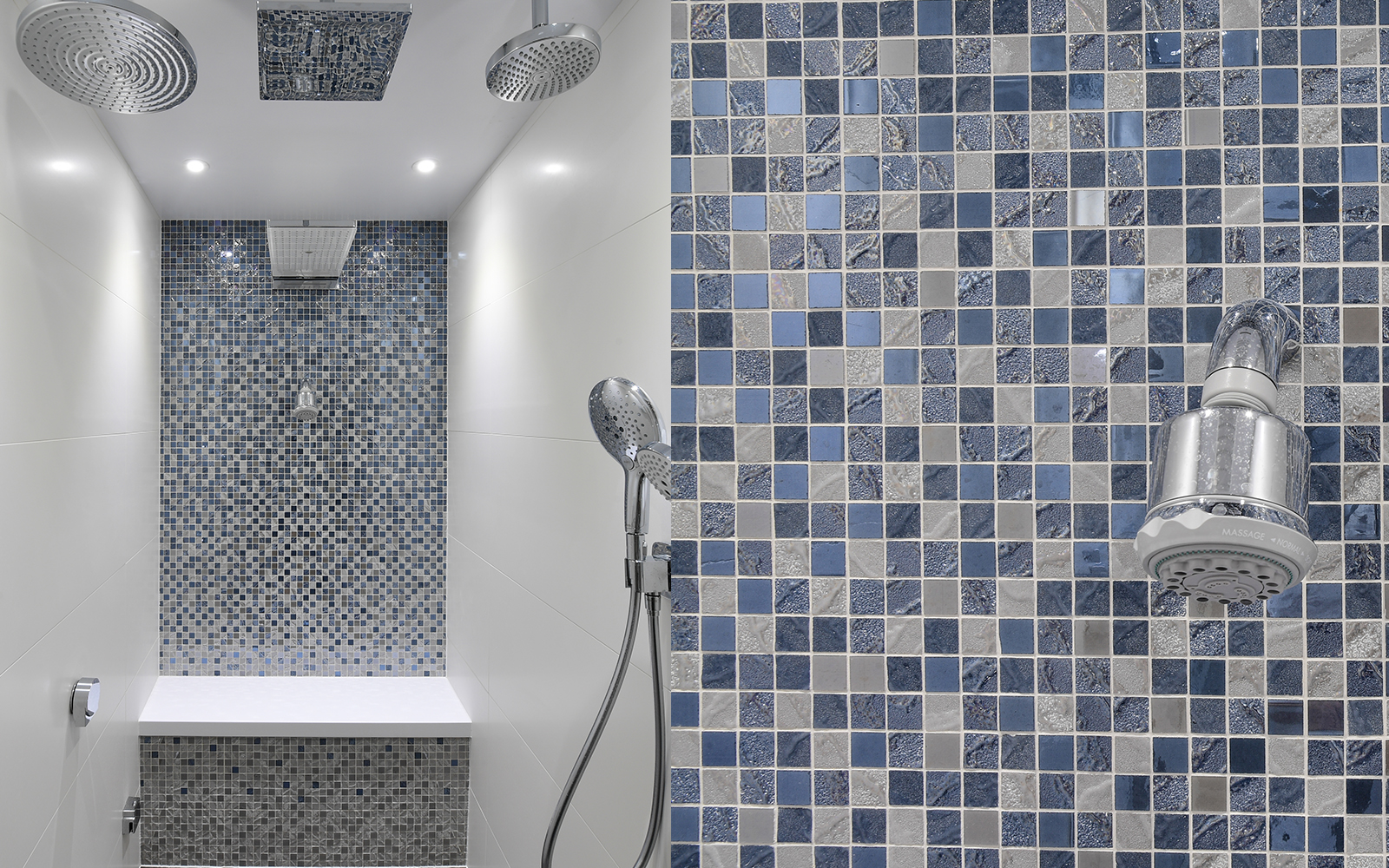 Mesh-mounted mosaic on 30/30 sheets, and thanks to its tesserae size, Minoli Four Seasons mosaics are versatile and can be installed even onto curved surfaces. Using Four Seasons releases your imagination and creativity. Four Seasons can be used in any setting with the range of colours suiting most shades, to either complement shade on shade or contrast completely. Personalise an interior effortlessly, the final result will be original and exclusive to each space, as each mosaic sheet can be easily cut and arranged into any desired number of rows or columns and combination of colours.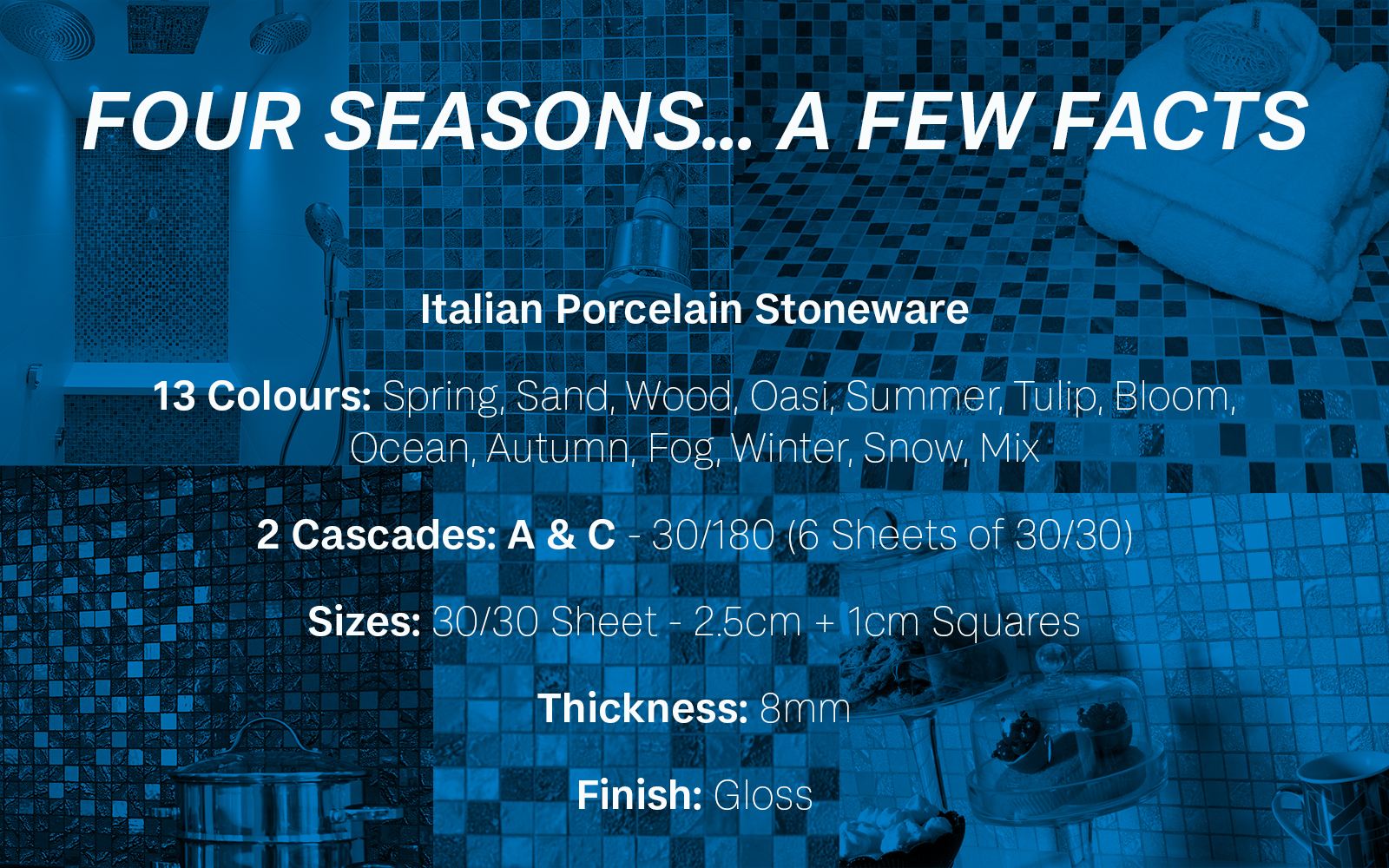 Four Seasons Oasi + Dreamwell Pearl

Four Seasson Oasi
Chromatic shades, rich colours, and bright surfaces enhanced by light create a refined and exclusive elegance. Enriched surfaces reflect sunlight as if precious gems are rooted in the material. Grey and silver shades sparkle like mother of pearl, creating a delicate ambiance within an interior. Use Minoli Four Seasons across a whole wall or just as an accent. Four Seasons mosaics create intensity, with changeable shades that reflect in the light, its charm develops into deep and elegance tints, over different surfaces, around corners and along floor and walls.

Posted in Fab Fact Friday, Minoli