More Information
---
Automotive Monday
This week on Automotive Monday – we are looking at the long standing relationship between Minoli and FIAT.
The relationship between Minoli and FIAT is approaching 20 years, with Minoli first supplying FIAT showrooms with a 300/300 White showroom tile as part of a gentle re branding to make the UK showrooms a clean simple – 'white box'. A few years later a new corporate identity was introduced and the tile was changed to a light cream colour, again in 300/300.
A radical change of direction was taken by FIAT shortly after with a new branding statement which coincided with the launch of some amazing new  cars. This tile CI was christened 'Ikea' in the UK – because of the return the simple 'white box' design and the use of minimalist furniture, the tile however was a 600/600 Italian Porcelain, with a unique grid or waffle design on the surface. This resulted in FIAT showrooms being one of the very first to adopt what was then considered to be large format tile.
A few years later another subtle re branding resulted in a new tile, a smooth white (with an egg shell finish) that was 750/750 – again a large format.  This tile and CI also coincided with the major relaunch of Abarth models in the FIAT range. A very sporty version of the FIAT models with all of the racing history of the brand created by racer Carlo Abarth, which has the very distinctive 'Scorpion' emblem.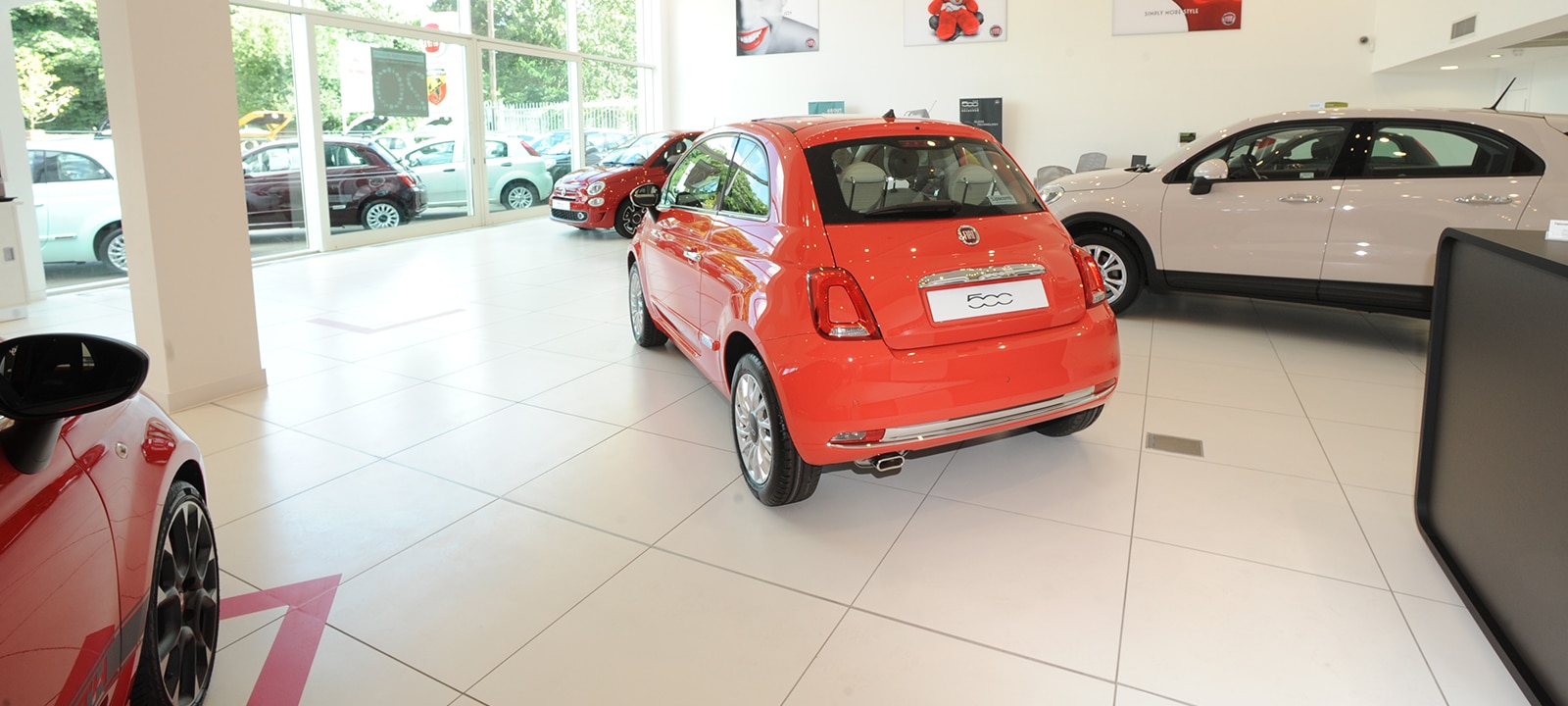 Minoli currently supplies a very modern and technologically exciting tile to the showrooms of FIAT and Abarth – the FCA FIAT Ice White, which is a 1000/1000 – with thin tech 6mm – manufactured using the Maximum process.
" Maximum – innovative formats, Maximum is a material that combines the established, classical characteristics that have always set  porcelain stoneware tiles as being at the height of tile technology, yet Maximum has exceeded this with  new very high performance qualities: strength, lightweight, flexibility and ductility"  
FIAT strives to continually re-position themselves in the UK market as more passionate than the contemporaries about creating cars that offer unique Italian design, innovative technologies, and great value for money, not to mention Italian style and flair.
The new showroom designs – as they have evolved – have created fantastic environments to reflect the brand's position and products.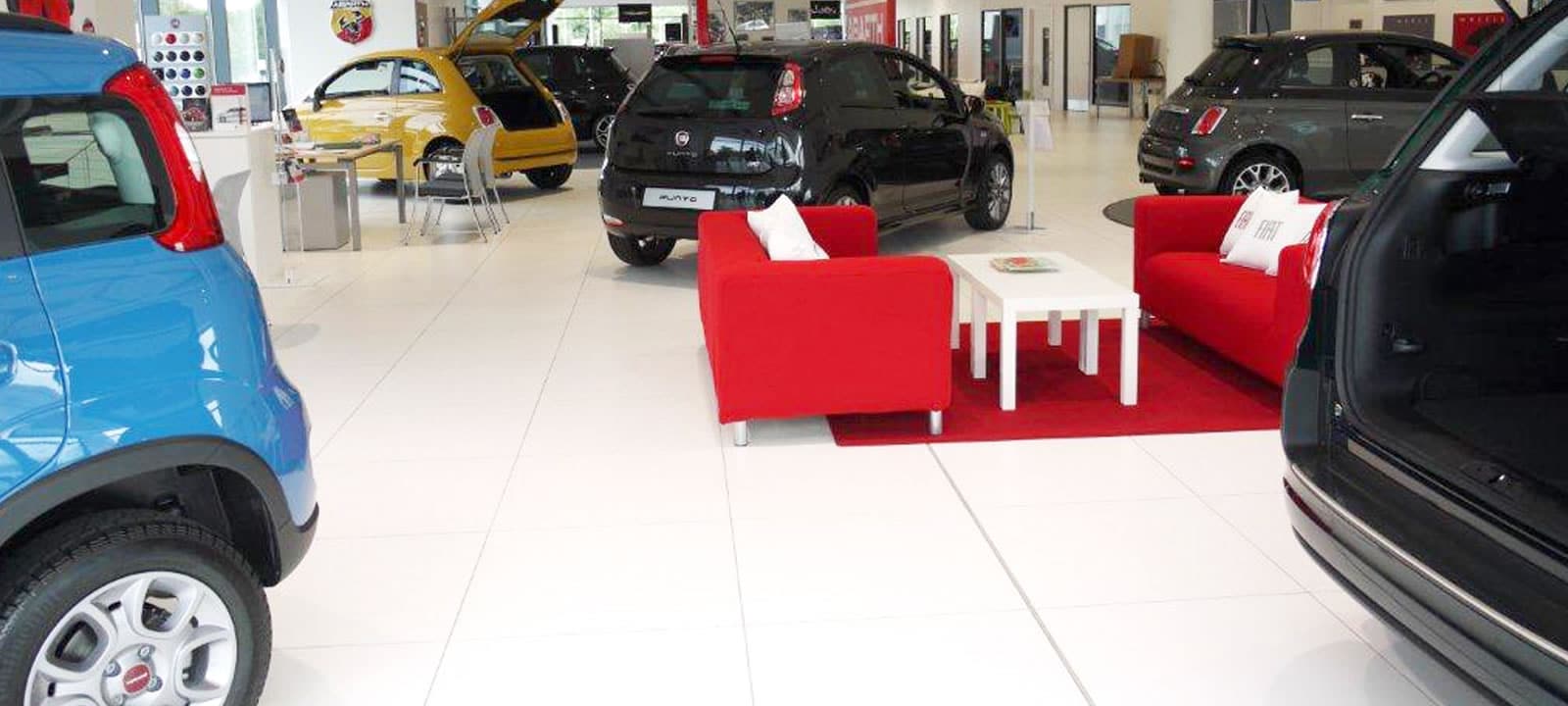 Minoli has provided stunning large format, bright white porcelain tiles for the showrooms and a complimentary, durable light grey tiles for the workshops – the Minoli Serizzo workshop series. Stock is held in the UK, in the Minoli storage facility – located centrally in Oxford. Prompt and efficient delivery is guaranteed to the FCA dealership network.
Abarth was formed in Bologna Italy in 1949 by Carlo Abarth – the Scorpion was chosen as this was the astrological sign of the founder.
FIAT – Fabbrica Italiana di Automobili Torino – was founded Turin in 1899. The first production of around 20 cars was completed in the purpose built factory in 1900.   
Here at Minoli we like to think we share the same passion and strive to be innovative, offer new technologies and reliability of service – an offer that is of great value to our Automotive Clients.

Posted in Automotive Monday, Minoli