More Information
The daily telegraph , Britain's leading quality newspaper launched a new supplement on Saturday October 1st " Luxury Homes".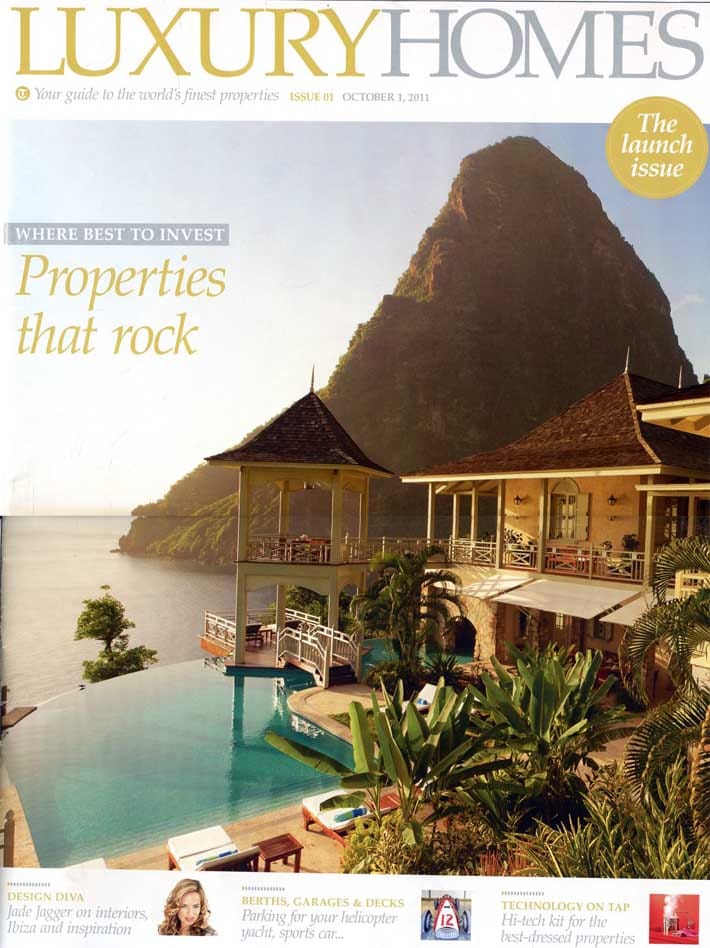 This very first edition was especially important to Minoli as it featured an article entitled "  Where can I park my??"  the author of the Article interviewed Jonathon Minoli and several Minoli clients in regards to the new fashion of providing luxurious finishes to garages in many high end properties.
Jonathon Minoli was quoted discussing with Graham Norwood the projects undertaken for Lexus, Alfa Romeo and many private clients. The unrivalled material available from Minoli, of high end ( but very affordable ) Italian Porcelain tile is ideally suited to the requirement of garages both commercial , domestic and super – luxurious!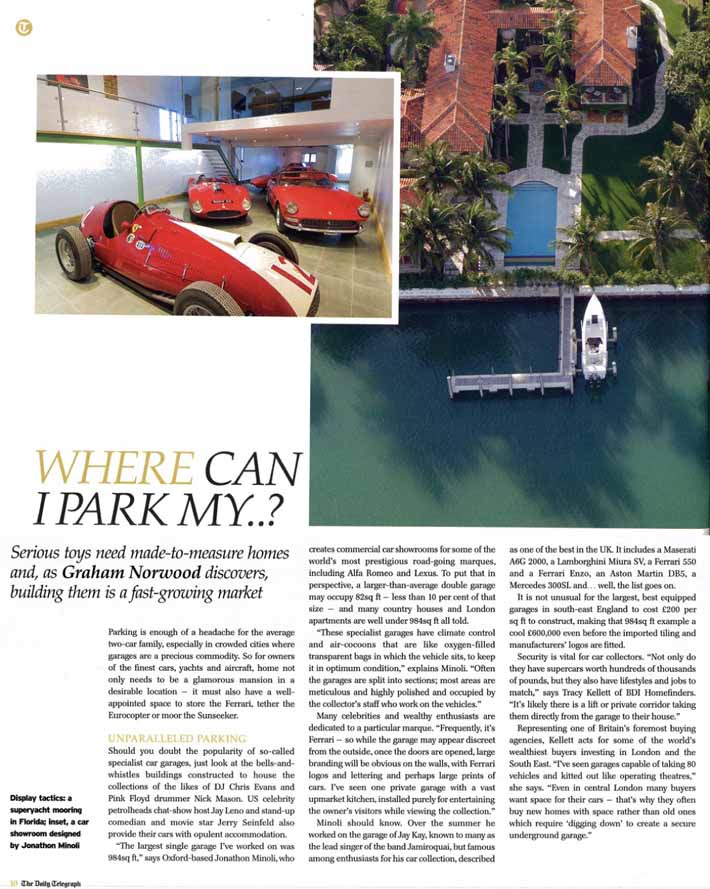 Where can I park my..?
Parking is enough of a headache for the average two-car family, especially in crowded cities where garages are a precious commodity. So for owners of the finest cars, yachts and aircraft, home not only needs to be a glamorous mansion in a desirable location – it must also have a well-appointed space to store the Ferrari, tether the Eurocopter or moor the Sunseeker.
UNPARALLELED PARKING
Should you doubt the popularity of so-called specialist car garages, just look at the bells-and-whistles buildings constructed to house the collections of the likes of DJ Chris Evans and Pink Floyd drummer Nick Mason. US celebrity petrolheads chat-show host Jay Leno and stand-up comedian and movie star Jerry Seinfeld also provide their cars with opulent accommodation.
"The largest single garage I've worked on was 984sq ft," says Oxford-based Jonathon Minoli, who creates commercial car showrooms for some of the world's most prestigious road-going marques, including Alfa Romeo and Lexus. To put that in perspective, a larger-than-average double garage may occupy 82sq ft – less than 10 per cent of that size – and many country houses and London apartments are well under 984sq ft all told.
"These specialists garages have climate control and air-cocoons that are like oxygen-filled transparent bags in which the vehicles sits, to keep it in optimum condition," explains Minoli. "Often the garages are split into sections; most areas are meticulous and highly polished and occupied by the collector's staffs who work on the vehicles."
Many celebrities and wealthy enthusiasts are dedicated to a particular marque. "Frequently, it's Ferrari – so while the garage may appear discreet from the outside, once  the doors are opened, large branding will be obvious on the walls, with Ferrari logos and lettering and perhaps large prints of cars. I've seen one private garage with a vast upmarket kitchen, installed purely for entertaining the owner's visitors while viewing the collection."
Minoli should know. Over the summer he worked on the garage of Jay Kay, known to many as the lead singer of the band Jamiroquai, but famous among enthusiasts for his car collection, described as one of the best in the UK. It includes a Maserati A6G 2000, a Lamborghini Miura SV, a Ferrari 550 and a Ferrari Enzo, an Aston Martin DB5, a Mercedes 300SL and…. Well the list goes on.
It is not unusual for the largest, best equipped garages in South-east England to cost £200 per sq ft to construct, making that 984sq ft example a cool £600,000 even before the imported tiling and manufactures' logos are fitted.
Security is vital for car collectors. "Not only do they have supercars worth hundreds of thousands of pounds, but they also have lifestyles and jobs to match," says Tracey Kellett of BDI Homefinders. "It's likely there is a lift or private corridor taking them directly from garage to their house."
Representing one of Britain's foremost buying agencies, Kellett acts for some of the world's wealthiest buyers investing in London and the South East. "I've seen garages capable of taking 80 vehicles and kitted out like operating theatres," she says. "Even in central London many buyers want spaces for their cars – that's why they often buy new homes with space rather than old ones which require 'digging down' to create a secure underground garage."
For more information go to Motors on the Minoli web site or email
// or:
Minoli
Tel: 01865 778225
E-mail: info@minoli.co.uk