More Information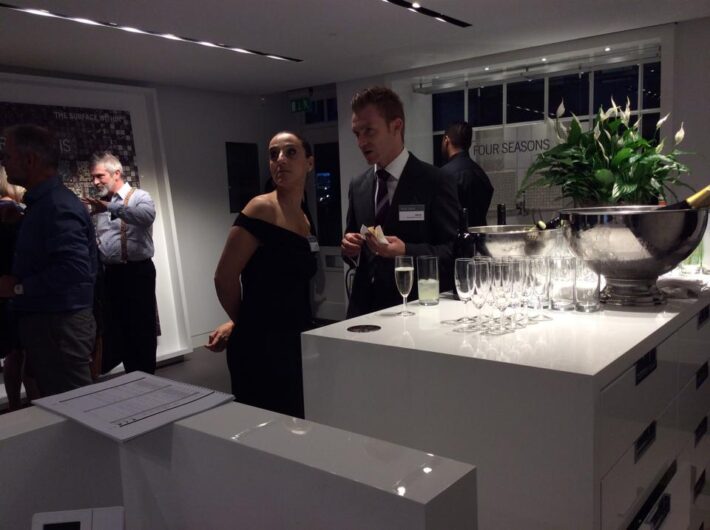 Italian luxury porcelain tile specialist Minoli has celebrated the first anniversary of The Surface Within – its London showroom located on George Street, W1. Clients, for the developer, designer and retail communities together with friends and colleagues gathered to mark the occasion with Jonathon Minoli, Managing Director, with a welcome glass of Prosecco and canapés by Jeremy Brown (Executive Chef of Home House).
The event attracted almost 150 guests who received the full attention of the Minoli team and saw the remarkable new products displayed in the newly refitted showroom, which although only a year since it launch was subject to a major program of improvements in the run up to the event, to ensure Minoli London is nothing short of cutting edge.
The launch of The Surface Within in September 2013 marked a return to having a London office and showroom for Minoli, where the company was founded in the early 1940's by Luigi Minoli, grandfather of Jonathon. As a logical extension to its Oxford-based headquarters and Distribution Centre, the George Street showroom showcases the company's stunning new as well as established collections in the heart of London's West End. The facility provides a convenient location for designers, developers, retailers and others who specify for projects to browse and gather inspiration from the extensive product displays and samples.
Commenting on the choice of brand name for the showroom, Jonathon Minoli explained that "At Minoli, we see tiles as more than just a floor or wall covering. For us, tiles create the 'surface within' buildings, connecting and transforming rooms into beautiful living and working spaces for people to enjoy".
Posted in Minoli, Minoli London, Press, THE SURFACE WITHIN