More Information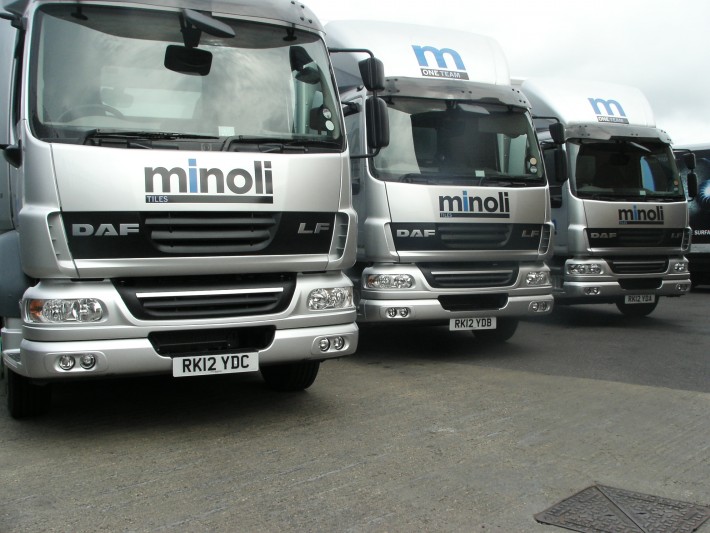 The ability to rapidly and reliably deliver from stock is one of Minoli's key strengths and it's a service that our corporate clients have come to appreciate and depend on.
As such, throughout the last two years, we have continued to invest heavily in our delivery fleet and improve our overall distribution resources to keep pace with the growing demand for our ever-expanding product and client portfolio.
This week sees the delivery of our third new 16 T Truck special built to the high Minoli delivery specification. Based on a DAF chassis cab with upgraded running gear, and fitted with  bespoke Body and Lifting equipment manufactured by  Kerr Bodybuilders at their Oxford factory, our latest truck will capably manage an 8,500 KG payload.
With a 1,500 KG tail lift, live satellite vehicle tracking, on-board reversing camera and aerodynamic (fuel efficient) bodywork, these custom built vehicles represent the state of the art in the industry and are perfect for the type of location our clients operate from, not 24T transcontinental lorry being off loaded on the street when ordering with Minoli!
The Minoli fleet now comprises 10 DAF Trucks, 3 Fiat Ducato Vans and a further 5 delivery support vehicles, giving a daily delivery capacity in excess of 80,000 KGS, all on vehicles specifically designed for to meet our needs and those of our clients.
Twice winners of the TTA Excellence in Distribution Award (2011 and 2012), we're proud of our reputation for providing a first class delivery service, which is widely regarded as second to none.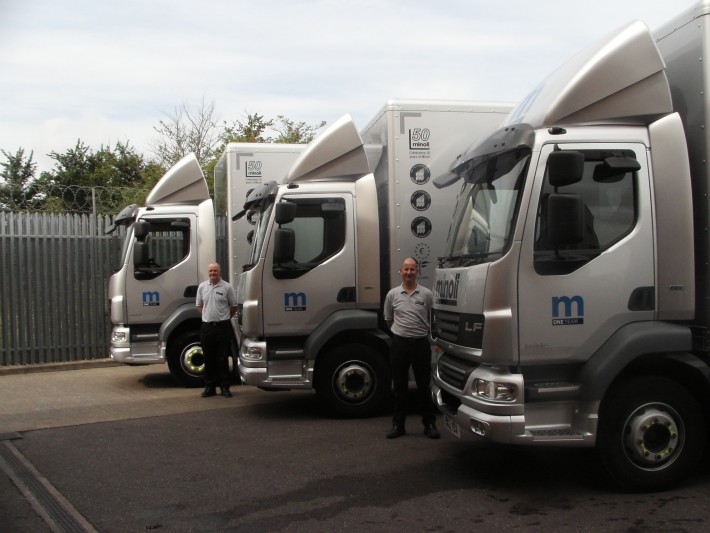 Pictured, two of the latest recruits to the Minoli driving Team, Mick and Mike. Mick joined Minoli in the summer of 2011 and Mike in the spring of 2012, both are fully qualified LGV Drivers, and drive the 12T, 16T and 18T Minoli trucks on varying routes on a daily basis.  Chris Minoli transport manager said  "we are of course delighted to now have the fleet up to full strength and also the driving team, although I will have to look and see if further recruitment is required in the coming months, I am expecting September, October and November to be very busy….. as for December you can never tell, much of it is out of our hands, but I know the sales team have been very successful in securing specifications over the past 6 months or so".