More Information
This new collection of brochures has been compiled to help create interest, and inspiration in the stunning tiles available to you and your clients from the Minoli collections.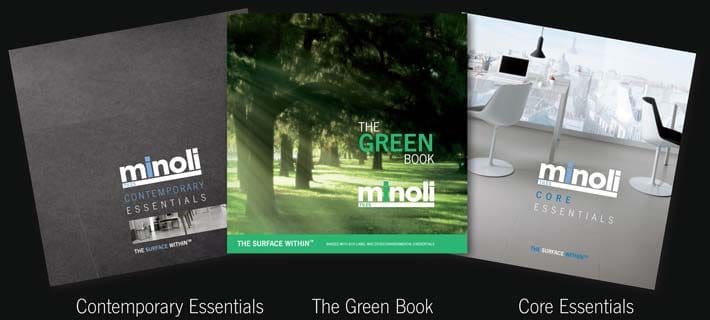 Contemporary Essentials
Brings together an unprecedented, extensive collection of our most beautiful and sought after tiles. Rich in colours, formats and textures, with ranges like Advance, Style, Ambition, Trust and Spark, your clients can create stunning and unique finishes throughout kitchens, bathrooms, living spaces and beyond.
Core Essentials
Comprising an expanded catalogue of wall, floor and mosaic tiles, in ceramic and porcelain. Ranges like Sybaris, Pulse, Silex, Fox and Purity have not only been chosen for design and style aesthetics, but also with affordability and durability in mind. These Core Essential ranges are exceptionally competitive and always available.
The Green Book
In support of our on-going initiatives to be more ecologically sensitive as a business, the Green Book brings together a selection from our ever-increasing range of products that are manufactured using methods or materials with demonstrably lower environmental impact – those that feature Eco Label or LEED accreditation, for instance. Of course, as with all our brochure ware, it's printed on FCS certified paper stocks, from sustainable sources.
Because we pride ourselves on our ability to deliver for our clients, the vast majority of our ranges are available from our extensive warehouse stocks for rapid delivery.
Please do not hesitate to contact us regarding these new brochures
Contact minoli
email: twentytwelve@minoli.co.uk
phone: 01865 77 82 25
Minoli
Transport Way
Cowley
Oxford
OX4 6LX
Posted in Minoli