More Information

For the last six months Paddy and Chrissie Whiteway have been overseeing the total redevelopment of a rather run-down Edwardian house to become their long-term family home.
Space comes at a premium in Shepherds Bush and few roads offer the right combination of both indoor and outdoor, for the right price. After some two years dipping in and out of the market, they finally made their move on a spacious semi-detached house, at the time divided into six individual bedsits and offered at a 'ripe for redevelopment' price, given its condition
This is their third London property but the only one where they have effectively had the opportunity to specify every last surface, fixture and fitting. A really important part of the end-design was the flooring and, having had a variety of new and restored floorboards, laminates and carpets in the past, they decided to look into tiling as a stylish and timeless alternative.
Paddy works for an experience, design and architecture business called Meda International and has worked in partnership with Minoli, the tile supplier, since 2005. But in this instance, they advised him as a private client which gave him a chance to judge the company's services from a different perspective.
"Knowing Jonathon Minoli well", said Paddy, "I shared our ideas with him quite early in the build process, poring over our architects' plans together, describing what we hoped to achieve and imagining the areas and spaces within.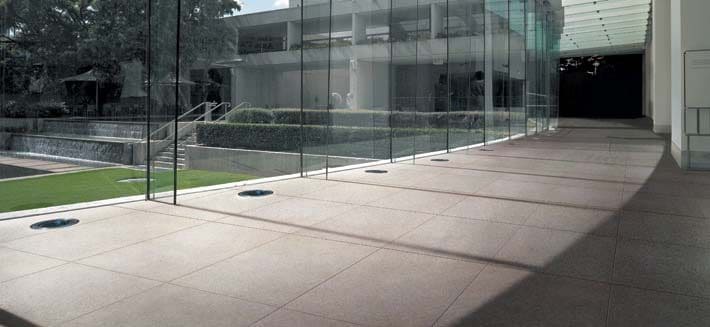 Advance Nero Basalto (This image is from a different site)
The Advance Range fitted the bill, made of stunning but durable porcelain in a generous 45 x 90cm format with a really crisp rectified edge. They chose Nero Basalto matt for the main interior and patio surface – a smokey grey with a light sheen and subtle metallic flecks to catch the light. For the front path the theme was echoed using Advance Exterior, with a mildly structured surface providing a grip better suited to more public areas.

A.I.R. People (This image is from a different site)
For a real sense of luxury in the guest bathroom they selected a lighter, gently-polished tile from The A.I.R Series range – People Silver – again in a larger format size with a similar application of Four Seasons Autumn mosaic as a 'brightwork' feature.
Lastly, about the loft bathroom Chrissie said, "We wanted to create something appropriate for our two young boys to use, but also to future-proof style-wise for their teenage years and the eventual adaptation of the whole floor into a guest suite.
Both the Whiteways and Jonathon Minoli are delighted with the end result. Paddy commented, "I'd expected nothing less but it's refreshing to get consistently good advice and service from selection right through to delivery.
Posted in Minoli