More Information
Tile Association Awards – Minoli Awarded Top Award Again!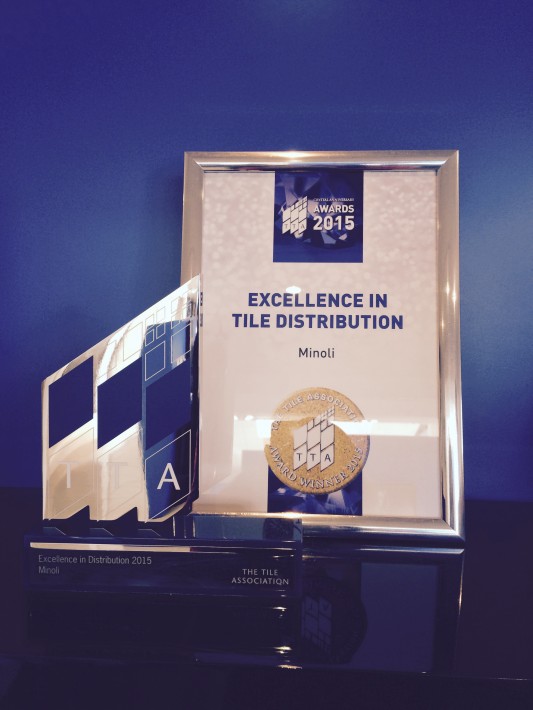 TTA Award in Excellence in Tile Distribution 2015
The prestigious Tile Association Awards were held on Saturday evening, April 18th in Birmingham at the St Johns Hotel. This year saw record entries in most categories and Minoli were finalist in two of the most crucial awards for the company, one which recognises the essential need for quality and innovative products " Floor Tile of the Year" and the award, which for Minoli is undoubtedly the most crucial " Excellence in Distribution" .
This year, for the 5th consecutive year, we are proud to announce that Minoli were presented with The Tile Association Award for Excellence In Distribution", which recognises the achievement of every member of the Minoli Team, in making the company the success it is.
With very serious competition for the nominations and between the finalists, we are especially delighted and thank the committee and judges for viewing the submissions independently of any consideration of previous success.
Jonathon Minoli, Managing Director of Minoli said of the evening " We are truly delighted to have seen our efforts recognised by the judges and thank them and the TTA organising committee, not only for the award but also for arranging such an excellent evening in which to present the Industry awards. The fact that Minoli have now been awarded this most important and for us prestigious award for 5 consecutive years just goes to further recognise the dedication of the team here within Minoli, and I am very grateful to everyone within the company who made this truly unique achievement possible".
Posted in Minoli, TTA Awards