More Information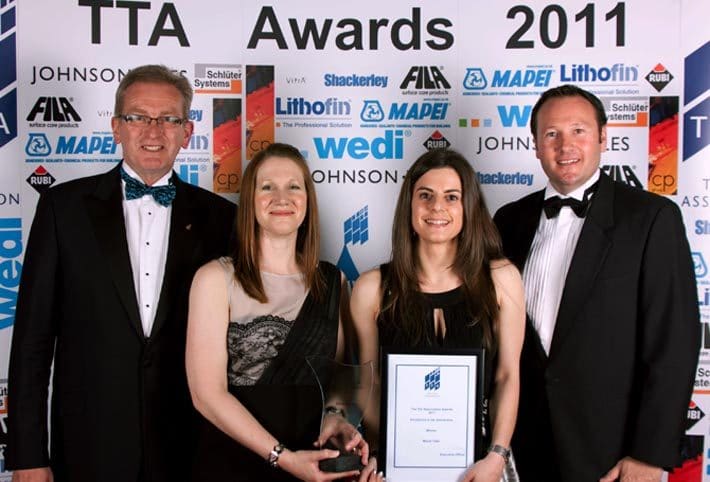 The Minoli Team, Sophie and Sophie, being presented with the Award.
The annual TTA ( the Tile Association ) awards were held on Saturday April 2nd ant the Metropole Hilton, a Gala event with over 500 guests representing the leading companies in the British tile and stone industry.
Minoli were nominated and won the prestigious "Excellence in Distribution" award which is designed to recognize the achievements of a company within the supply and distribution of ceramic and Porcelain tiles and accessories.
This award is especially important to Minoli as it recognizes service, delivery and stock holding above all other things, and these are the points that Minoli have always concentrated on.
The other nominees were amongst the leading competitors of Minoli, but our service and flexibility were deemed by the judges ( a board of leading persons within the industry) to be truly excellent.
Distribution is often considered the least fashionable or glamorous part of the tile industry, it's all "warehouses and trucks", but it is still a central part of the system for getting tile to Retailers, Developers, House builders, Car Showrooms, Leisure centers and the public. The team at Minoli not only enjoy this but excel at it and having this recognized by the Tile Association makes us very proud.
The event was very upbeat and positive with many of the attendees considering that the worst of the economic troubles were behind them and that a steady if not best year waits, Minoli for one are ready to meet the needs of our clients.
The winning of this award only inspires us to more and better levels of service to our clients.
Jonathon Minoli, Managing director of Minoli said " I would like to thank the board and judges for recognizing Minoli's achievements in distribution in this our 50th year, we are extremely proud of this award which will go alongside the award given to Minoli by the TTA last year"
Posted in Minoli