More Information
Wonderful Project Wednesday
This week on Wonderful Project Wednesday – we are looking at GC Interiors – The Showroom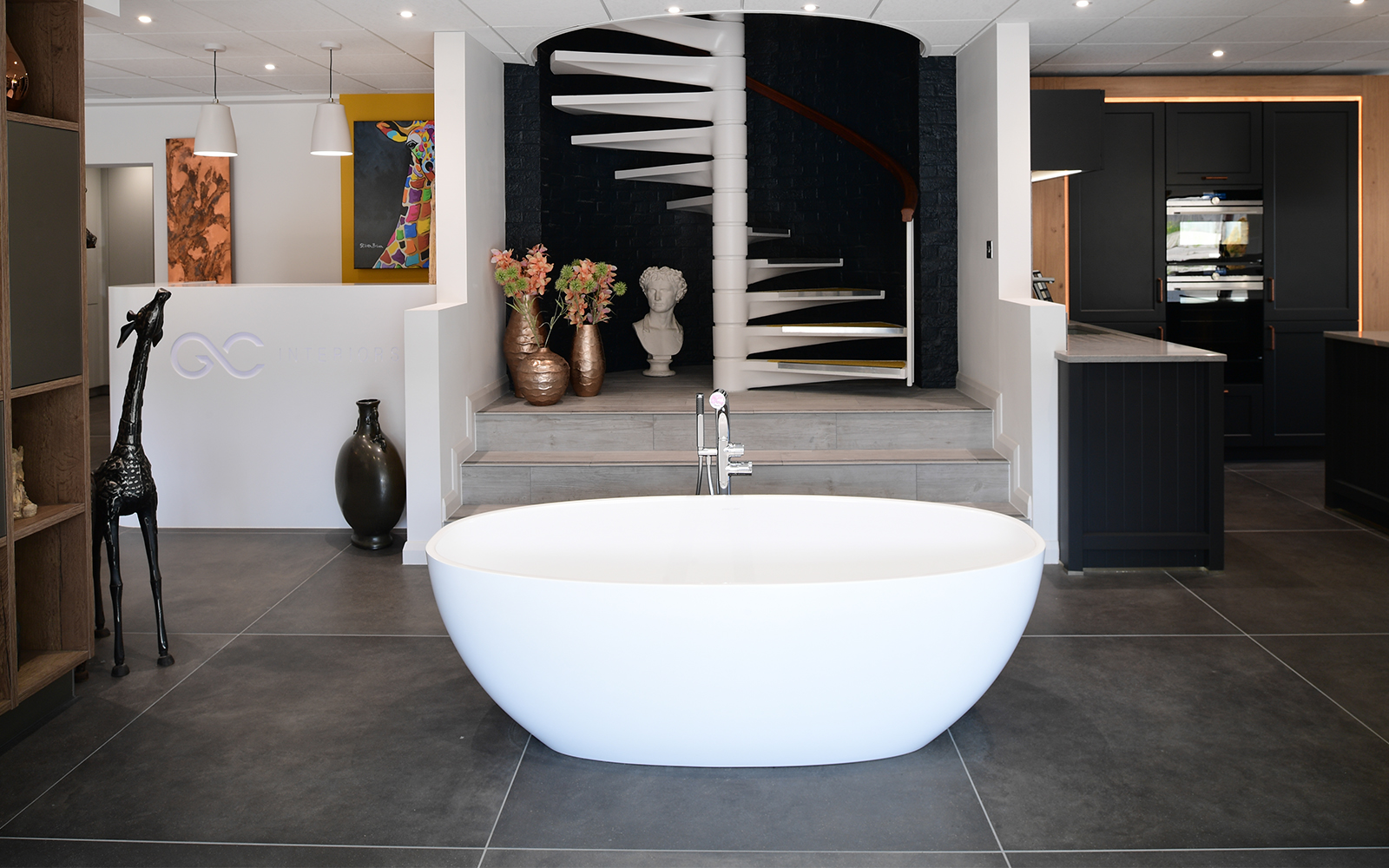 Established in 1978, GC Interiors is a family run business in Oxford and one of Minoli's long standing commercial relationships, with over 30 years of work together in the retail sector. With 50 years combined experience within GC, the knowledgeable staff guide clients through the exciting room displays. The showroom has been designed to create a relaxed and friendly atmosphere allowing clients all the time they need to choose the perfect interior.
"Our goal for every project is to create a living space that is not only functional and practical but also reflects the individual style."
GC Interiors also offer a full building and installation service, specialising in kitchens, bedrooms and full property renovations across Oxfordshire, Berkshire and Central London.
The new GC Interiors building was fully fitted out with the very latest ranges from Minoli Tiles in 2018. The GC Interiors team made use of the large format tiles Minoli had recently launched, including the Dreamwell Series in the colour Smoke and in 120/120cm format. Dreamwell by Minoli, is a concrete effect porcelain tile and was installed throughout the building.
"We have a passion for creating new and unique spaces."
The Minoli range of luxury tiles from authentic wood look to iconic brick tiles are on display within this new showroom. GC Interiors is a showcase for the wonderful availability and versatility of Minoli's products. Wandering through the showroom you are mesmerised by imaginative rabbit hole you have fallen into, with every corner surprising you with a world of inspiration. The Minoli Marvel Statuario Select Bookmatch marble effect tiles beam towards its intended audience, showing its true showstopping power and authentic beauty. Minoli's luxury mosaics are also on display including Minoli Four Seasons Cascade and the modern and geometric Mekal Esagono and gold diamond, metal effect porcelain tiles.
Four Seasons Cascade C

Mekal Dark

Twelvenoon Honey

Marvel Statuario Select Book Match

Dreamwell Smoke
GC Interiors aim to provide first-class customer service and a fully equipped showroom of outstanding quality, ready for the client's curiosity. Inside the Oxford showroom of GC Interiors, find interior inspiration from bathrooms and kitchens to bedrooms and living spaces. Impeccable settings of Minoli Tiles present the possibilities for your home interior. Choose from modern concrete effect tiles from Minoli for contemporary spaces or indulge into the luxury world of Minoli Marvel marble effects. Once the perfect tiles have been chosen by the client, much like Minoli, GC offer a unique and personal service, including the delivery of the products to the client's home or site.
"All deliveries relating to your project will be made by our own drivers in one of our many company vehicles. You can, therefore, guarantee peace of mind once the project is underway."
Jonathon Minoli – MD of Minoli said at the time of the grand opening of the new GC Interiors showroom "We are truly delighted to continue our relationship with Gareth and his team – his family. This new showroom really is a showcase for the way in which Minoli large format tiles can be used in people's homes in a quite visionary way."
Posted in Wonderful Project Wednesday