More Information
Wonderful Project Wednesday
A pair of beautifully situated detached, luxury family homes developed by Sweetcroft in North Oxford along the very desirable Woodstock Road. Located near both Oxford Parkway station and the centre of Summertown – Two miles from Oxford's "Dreaming Spires" and some of the best schools in England including the Dragon, Rye and Summerfields.
The two properties were recently constructed on Woodstock Road and are both six-bedroom detached, luxury properties. Raleigh House and Florence House are incredibly spacious and light, with stunning entertaining spaces, both inside and out all fitted throughout with Minoli Contemporary Essentials.
Boasting six bathrooms, these developments have plenty of space throughout the generous layout for a large family to live comfortably as well as in luxury. The Minoli Contemporary Essentials tile collections have been chosen to enhance the rooms within the property. Selecting both Porcelain and Ceramic tiles within the Minoli ranges.
Minoli Marvel Grey Fleury Matt tiles have been used throughout the open plan kitchen, diner, and lounge on the ground floor of the property. Minoli Marvel Grey Fleury Matt tiles in a size 60/60 tile, are Minoli stock items and have a lead time of approximately 2 – 3 days. Authentic in their marble effect with light grey backdrop and white lightning strikes of marble veins through the surface design, Minoli Marvel Grey Fleury offer beautiful and practical floors for the home. An R9 slip resistance and non-porous surface allows Minoli Marvel Grey Fleury marble look tiles to provide a durable porcelain stoneware floor for the interior.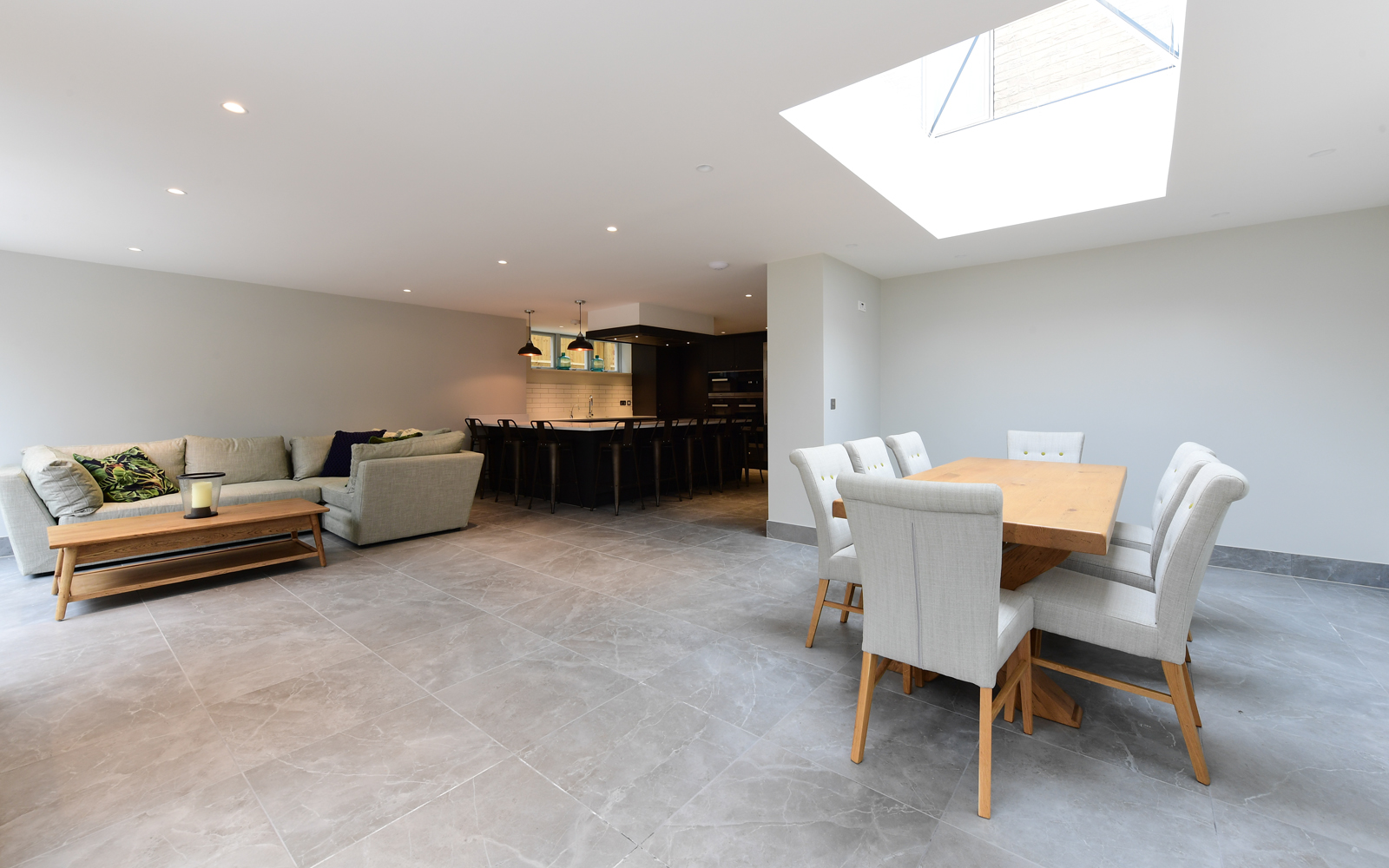 The Master bathroom is a sleek and simple affair, with plain white tiles, white walls, and white bathroom suite to set the scene. Minoli Allover White Matt porcelain tiles obtain a subtle slate effect surface. The main feature of the Master en suite is the twin 'his and her' vanity. Beautiful mirrors create a sense of space with tonal white mosaics from the Minoli Allover range providing interest over walls in a serene, clear visions. The geometric tessellating shapes create a modern feature wall within the sophisticated space. The visuals are elevated by the contrasting matt and polished finishes of Minoli Allover White Mosaic.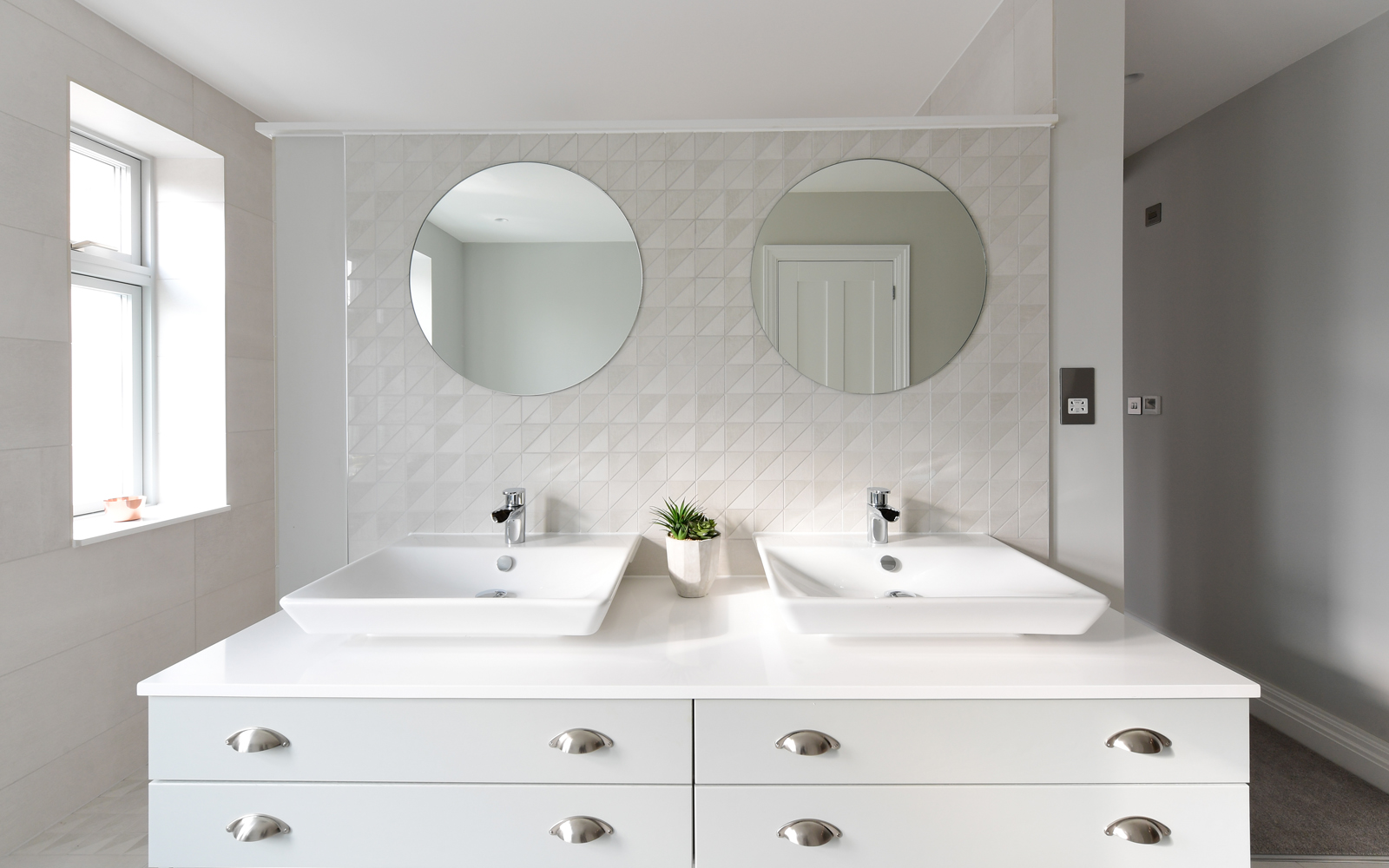 Continuing the marble theme from the lower ground floor, Minoli Marvel Statuario Select is featured in two of the additional shower rooms within the property. Marvel Statuario Select Matt porcelain tiles are used for the floor and skirting, while Minoli Marvel Statuario Select Brick decorated the walls in a marble effect ceramic wall brick tile. Porcelain mosaics from the same range provide shower floor tiles for both en suites.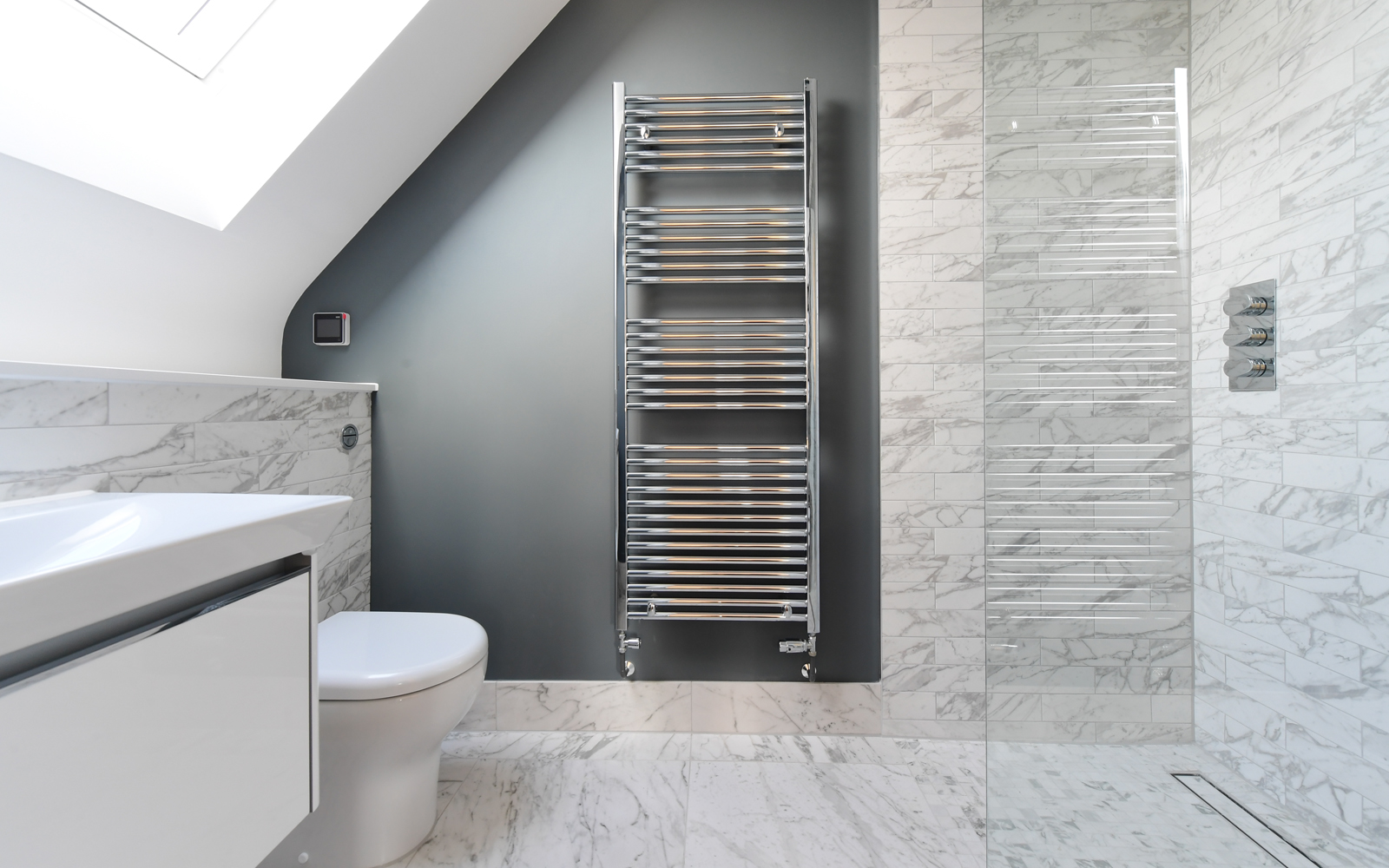 For the family bathroom, Minoli Gemstones Terrazzo White Lappato tiles and Adana Flat Bianco Brick tiles showcase another modern interior. Subtle texture and interest is created by the Italian terrazzo effects, in tonal shades of white and grey, complemented by Minoli Adana white brick tiles, catching the light and casting shadows across the walls, giving this room a sense of movement while remaining spacious and calm.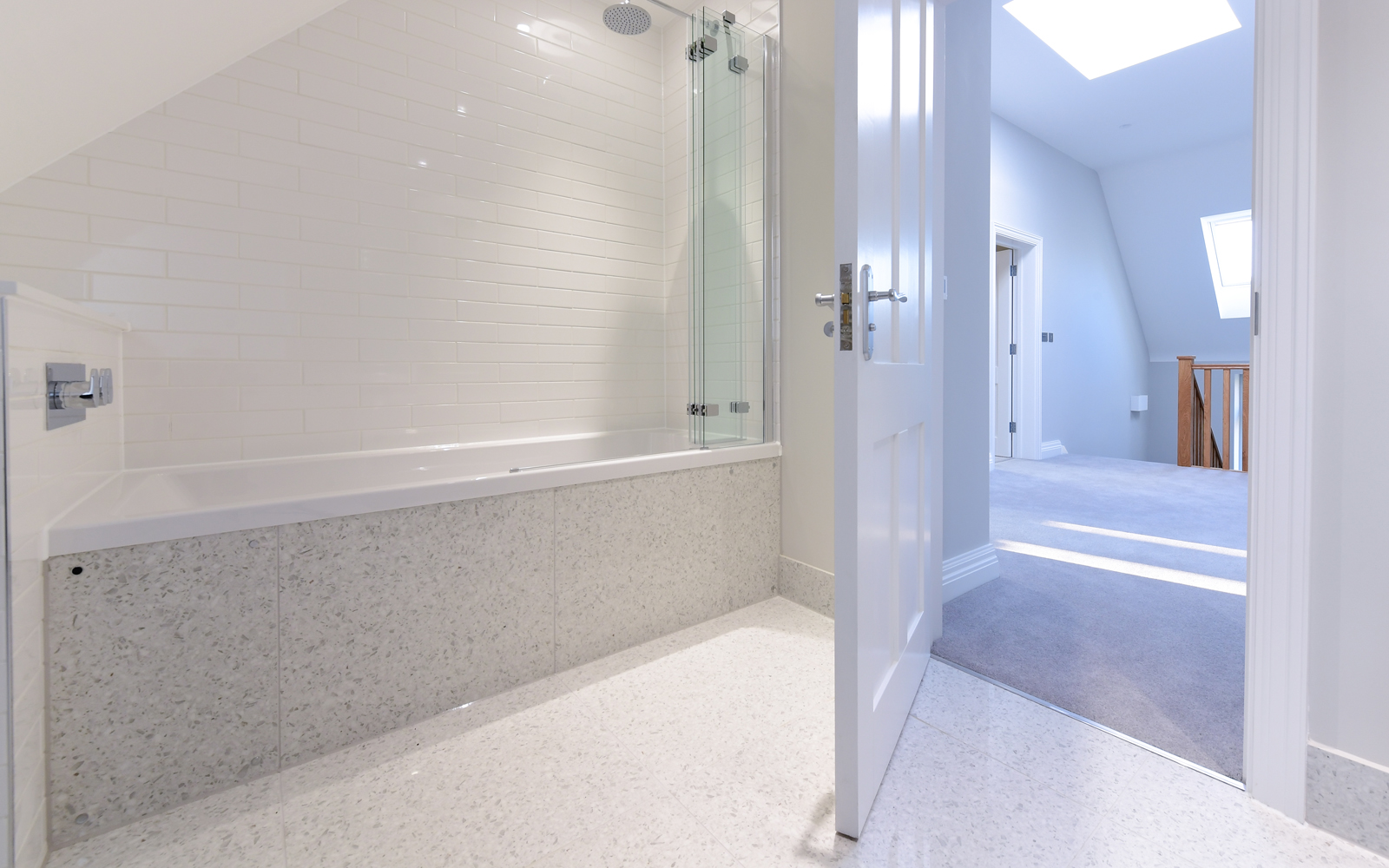 Last but by no means least, Minoli Twelvenoon Ember wood effect tiles transform an en suite into a playful yet sophisticated and masculine environment. Just like a wooden chalet in the icy mountains of the Alps, Minoli Twevlenoon wood look tiles create unique spaces for interiors. Waterproof, non-porous porcelain tiles with an authentic surface texture much like real wood itself, provide functional and attractive surfaces for wet rooms and floor and walls in showers.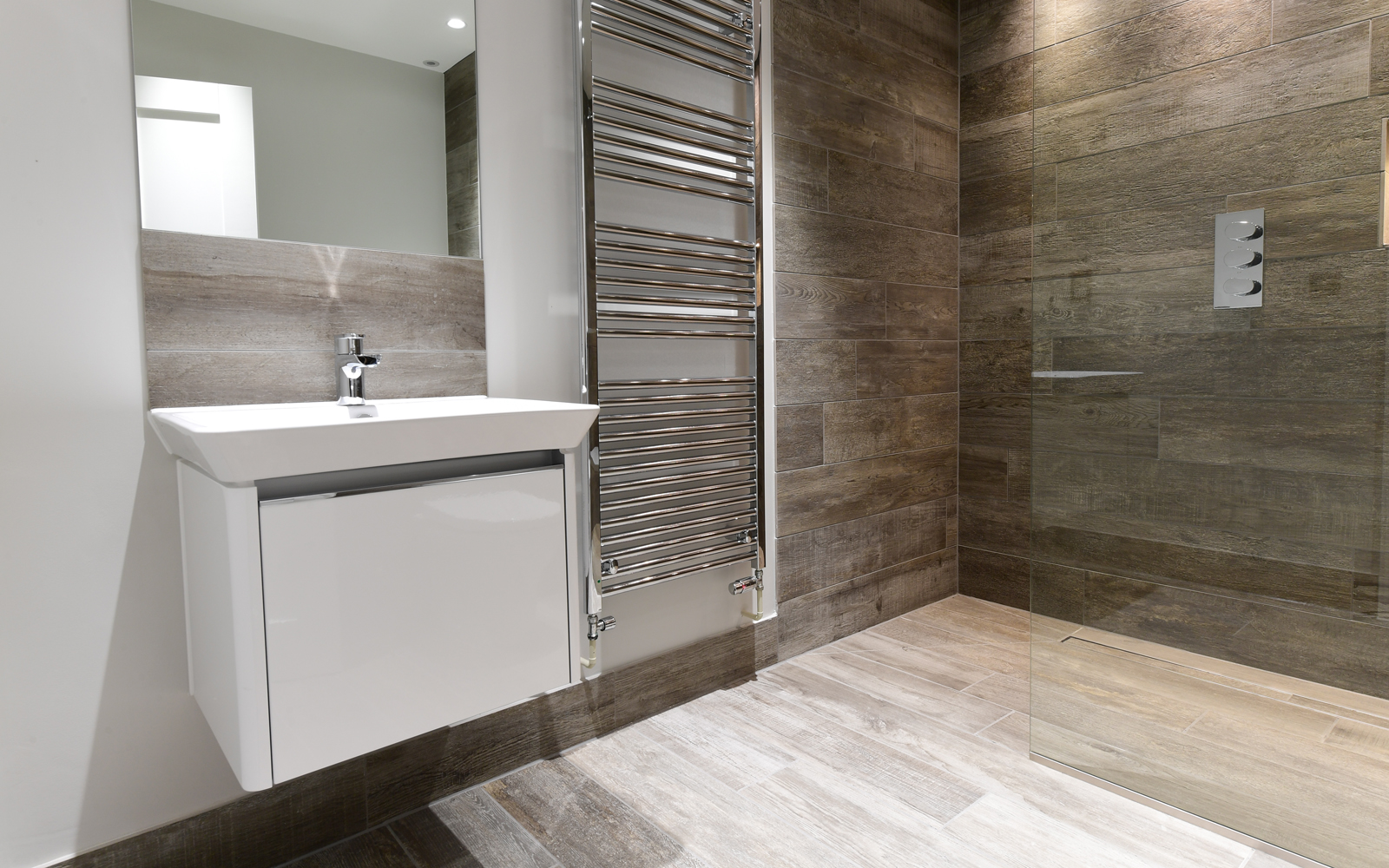 Posted in Wonderful Project Wednesday